The backyard barbecue is an American tradition. Almost every home has a basic backyard grill. Nowadays, however, many homeowners feel that this is no longer enough. They want their outdoor cooking experience upgraded. Not only do they want a full kitchen outside, but they also want a dining area and other features to go with it.   With limited opportunities to go out or travel during the pandemic, the yard has become a hub for relaxation and entertaining.
The Dream Outdoor Kitchen
Several surveys show the desirability of the outdoor kitchen. In the 2021 survey of the National Kitchen & Bath Association (NKBA), outdoor kitchens were the most popular project, with 76 percent of the respondents planning to build one. In the Brown Jordan 2021 Outdoor Living Report, 65 percent of homeowners stated that a complete outdoor kitchen is very important. In the 2021 Trends for Outdoor Living Spaces report of Fixr, 61 percent cited the outdoor kitchen as the most wanted addition to the home.
The dream outdoor kitchen has a stovetop, oven, and, of course, a high-quality Lynx grill. Pizza lovers will want a pizza oven. Some may want an authentic wood-fired brick oven. Some people may want a smoker, as well. There is a kitchen sink and a refrigerator. A separate ice machine would be a plus. There must be enough counter space for food preparation, storage for equipment, and a secure pantry.
Complementary Spaces
Besides this is a dining area and an outdoor living room. In the Brown Jordan report, 83 percent cited seating for dining and lounging as a top need. In the NKBA survey, 60 percent said so.
Materials used for outdoor kitchens, dining rooms, and lounges are weatherproof. They can withstand intense summer heat, rainy days, and snow. Kitchen equipment and cabinets are made of stainless steel. The cabinets can be made to look like wood grain, though, or can be coated with any color.
People are not weatherproof, though. Hence, protection from roofing or any other overhead cover is needed. In the NKBA report, 55 percent cited this. In the Fixr report, 41 percent cited the need for shading, with 27 percent preferring hard coverings such as a pergola and four percent preferring soft coverings such as an awning.
In cold weather, people need to stay warm and heat from the grill is not enough. In the Fixr report, heating sources ranked second to outdoor kitchens in popularity. Outdoor heaters were cited by 54 percent, outdoor fireplaces were cited by 41 percent, and fire pits by 27 percent. In the Brown Jordan report, 66 percent identified the fire pit as an important element. In the NKBA report, 60 percent cited fireplaces and fire pits as top features.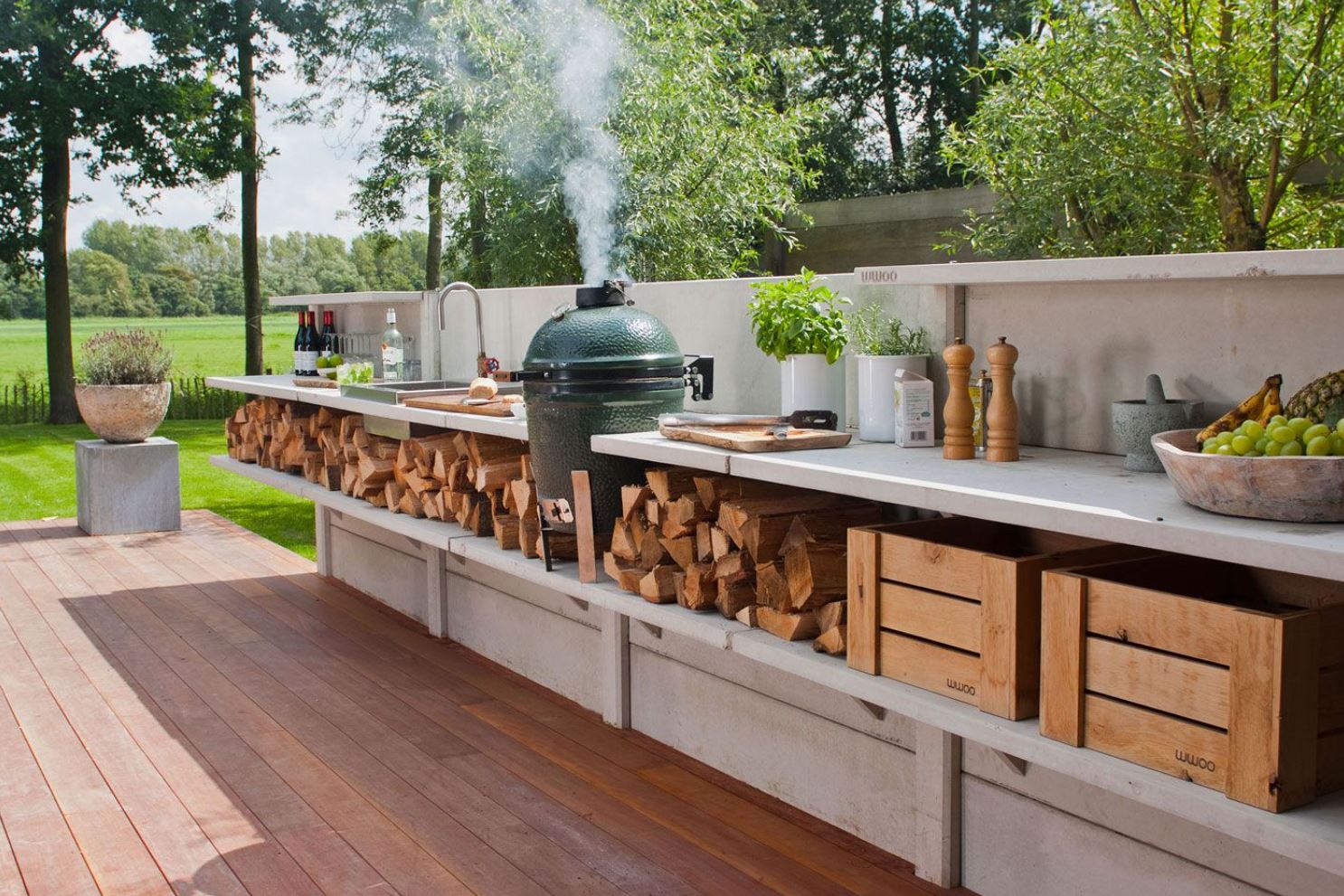 Investing in the Outdoors
According to the Brown Jordan report, homeowners are spending more on outdoor kitchens. Cost only comes third in their concerns, with 66 percent basing their purchases on durability and 65 percent basing their purchases on resilience to various weather conditions. In the NKBA report, 60 percent want functionality and aesthetics.
There are available prefabricated outdoor kitchens that already come with equipment. Having a customized outdoor kitchen is better, though, because the homeowner can maximize the use of the existing space in the layout. The homeowner will also be able to choose each kitchen equipment and can opt for a whole line from one brand or pick and choose from various brands.
Once the outdoor kitchen, dining area, and lounge area set up, a bare yard around it will not do. Homeowners find themselves sprucing up the surroundings, as well. A lawn can provide a nice backdrop. For those who want to avoid the upkeep of a lawn, patio pavers can be used to cover the ground. These must be non-slip in addition to being attractive. They must also stay cool even in summer.
It is still nice to have some greenery around, even just some strategically placed potted plants. Potted vegetables will complement the outdoor kitchen well. Small fruit trees planted beside the fence add privacy and help cool down the area in hot weather. The fruits are a bonus. Having fresh vegetables and fruits on hand will make meals more nutritious.
Reaping the Benefits
Adding an outdoor kitchen immediately increases the value of the home. The addition of a dining area and lounge plus the beautification of the entire yard give the house more value. If these are not common in other homes in the area, the house will bring in a better price if sold.
Even if the house will not be for sale, these investments will profit the homeowner. It is almost like having another house but outdoors.