Due to the pandemic, most people stuck at homes have developed a cooking habit. Some have found a passion for baking, while some were content cooking some straight-forwards, easy-to-prepare meals at home.
The year 2021 sees consistent action in most American kitchens. Craving to share meals with friends and family, kitchens have never been more central in homes than ever. Studies reveal that 70% of homes have been producing homecooked meals since the pandemic started, and it is only foreseen to continue in the next years.
For a better experience to be facilitated, kitchens are now being built to fulfill utilitarian functions and provide aesthetic appeal. Here are the 2021 trends that complete kitchens that meet form and function.
Kitchen Countertops
There's nothing that makes a kitchen functional than a good countertop. Therefore, replacing a kitchen countertop is crucial to facilitating a better cooking experience. The countertop is like the holding area for your cooking ingredients, utensils, and miscellaneous kitchen materials.
As kitchen countertops are huge, they contribute largely to the kitchen's overall visual appeal. For all these reasons, picking the best material for a countertop is important.
Quartz Countertop
Quartz has always been a leading choice for kitchen countertops. This is because quartz is a nonporous material resistant to bacteria, stains, and scratches. It is great for kitchens because it is heat-resistant as well. To top it all off, it is very durable and low maintenance. Moreover, quartz is customizable since it is a man-made material. This means it can fit any kind of style a homeowner may want for the kitchen.
Finishing
To add to the kitchen's overall look, one must understand the importance of finishing. A polished finish has always been popular, but this year, a honed finish is gaining popularity, too. A honed countertop has a matte finish, while a polished one is glossy. A honed countertop is excellent because it can be applied to different countertop materials, including quartz, granite, and marble. It is a perfect choice to hide scratches that are unavoidable while cooking in kitchens.
Kitchen Storage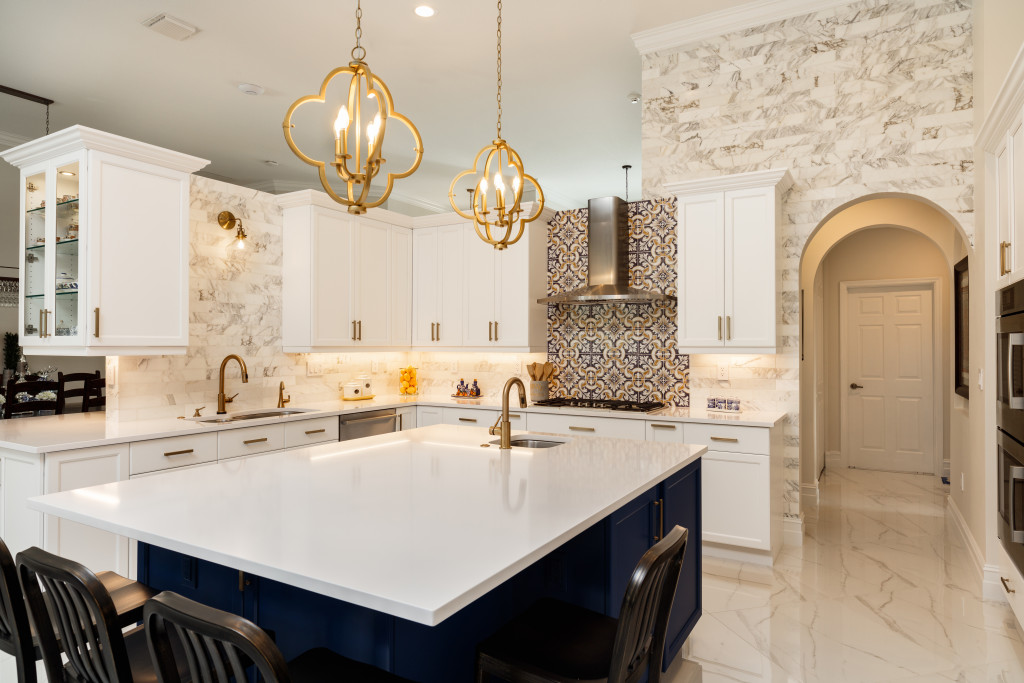 Storage is vital in any part of the home, especially the kitchen. Having the right amount of storage ensures that the kitchen will not appear cluttered and disorganized. More and more owners are seeing the importance of storage, and most are replacing their cabinetry or adding more storage.
To add more storage, some homeowners who have extra space in the house have been adding pantries. Others, on the other hand, are replacing their old cabinets with shaker-style cabinets.
Shaker cabinets are gaining popularity because of their simplicity and aesthetic appeal. The most popular shaker cabinets are white because it makes kitchen spaces brighter and appears larger. In addition, light-colored shaker cabinets offer a minimalist appeal to the room.
Because of their simplicity and elegance, shaker cabinets are timeless and will never go out of style. Usually categorized as traditional, it can also fit modern and other styles of homes.
Kitchen Layout
In recent years, open-concept floor plans have been used to create a better flow of space in the kitchen and other parts of the home. An open floor plan refers to a layout where two or more areas are joined by removing partition walls. As a result, the space becomes larger and can accommodate more people.
Usually, the layout is used to combine the living room and kitchen or the kitchen and the dining room. At times, all of these three common areas of the home are adjoined together to create a "great room."
Benefits of Open-concept Floor Plans
One of the most obvious benefits of an open floor plan is to have a better traffic flow. With this flow, people can easily move around without worrying about closing and opening doors. It improves sociability as well. For example, people can easily communicate while some cook in the kitchen and others chat in the living room.
By opening up the space of the home and removing partition walls, communal areas can share the light coming from the windows. This creates a great ambiance in the home that ultimately increases the appeal of the house to buyers. Lastly, open floor plans make communal spaces multifunctional; they can be a place for cooking, recreation, or entertaining.
Why do trends happen?
Trends occur because of arising needs of homeowners. Therefore, one must keep in mind that following a kitchen trend is for the sole purpose of giving a solution to kitchen needs and making the kitchen more functional for its owners.