A well-designed outdoor living area can help make your home feel more welcoming and aesthetically appealing. It can also boost your property's resale value should you decide to put it on the market in the future.
But even if you are not planning on selling any time soon, it's still a great idea to give your yard a sweet makeover for your own enjoyment. Here are several ideas you might want to think about if you wish to turn your simple yard into a beautiful and relaxing extension of your house.
Plant Flowers
One of the easiest ways to enhance the appeal of your outdoor space is by planting flower beds. They will instantly add color and life to your property. Fresh, healthy greens are also useful in livening up a yard and making it pop in color.
Just make sure to clean and maintain your garden regularly to keep it free from dandelions, crabgrass and other common harmful weeds. If you live in an urban area where there's not enough space for flower beds or vegetable patches, creating container gardens would be an excellent alternative.
Put Up a Shade
Be sure to avoid getting exposed to the harmful rays of the sun with a sturdy awning or any patio sun shade. With ample protection from the sun, you can enjoy your outdoor space any time of the day, and without worrying about ultraviolet radiation.
Install Proper Lighting
With an outdoor lighting system, you can spend quality time in your outdoor area even at night. It does not have as bright as the ones inside your home, though; just enough illumination to the seating area while creating a homey and relaxing ambience.
Add Comfortable Chairs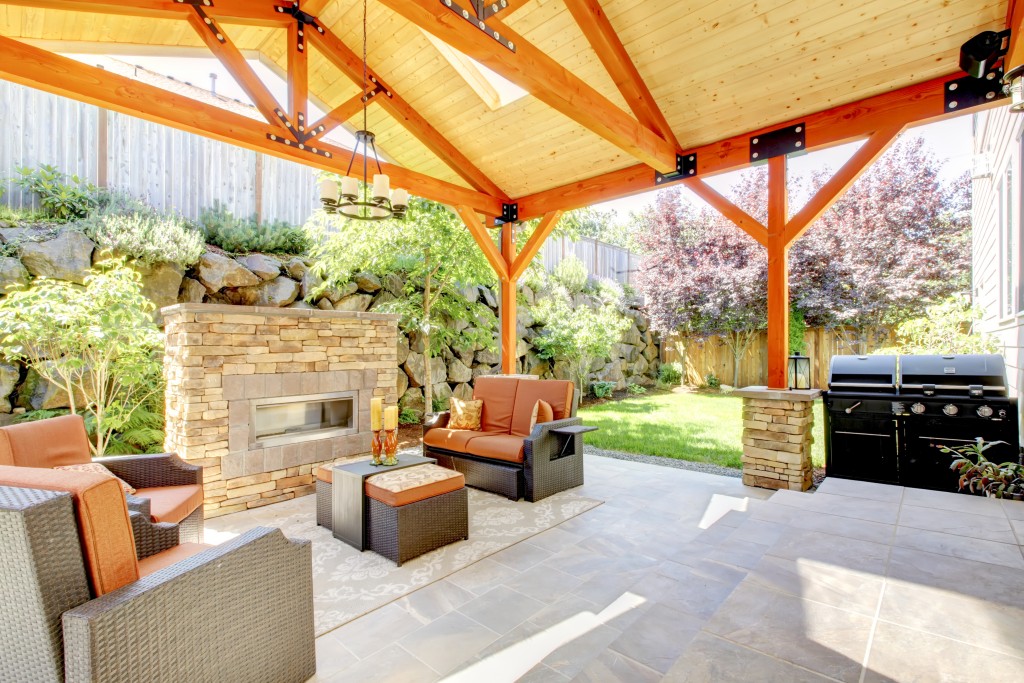 Your outdoor living area will benefit from well-placed, comfortable seating. A bench, for example, is an excellent spot where you can curl up with a good book. Depending on the theme you are aiming for, you may add a sofa or a few wrought iron chairs for chilling out and appreciating your lovely garden.
Use Colors Consistently
To make your outdoor area truly feel like an extension of the main house, use the same palette that you utilized in the interiors. It will be pleasing to the eyes to have the colors of your rugs, chairs and other features complement those inside your home.
Build a Deck
Outdoor living spaces do not always have to include sprawling grassy lawns. You can make the most of your yard with a deck furnished with comfy furniture. When designed perfectly, decks can be both functional and aesthetically pleasing.
They are perfect as an area for entertaining, grilling, or simply relaxing. Adding railings or screens will improve its safety and enhance its appearance at the same time. You may also think about accessorizing the area with attractive outdoor rugs and flower baskets.
Regardless of your budget, there are several ways to enhance the look and feel of your yard. Take the time and effort to apply these tips, and you will soon have an outdoor living space that's beautiful and comfy for your family and guests.