According to a survey reported by PR Newswire, 48 percent of travelers canceled their flights when the COVID-19 pandemic started. Today, 52 percent of people remain doubtful they'll ever go on an overseas trip even when after the pandemic.
While the travel industry is still experiencing losses and governments are trying to aid the struggling tourism industry, you might want to sit back and think of another way to experience going on a holiday. And because Greece is one of the world's most sought-after destinations, why not create an outdoor space that can mirror the Mediterranean country? Turning your patio into a Greek paradise is one excellent idea to make your family's outdoor time more relaxing.
Whether you want to overhaul your patio or redo your landscaping, creating a Greek-style space doesn't have to be complicated. Applying a white-and-blue color update and getting Mediterranean pottery with drought-tolerant plants can do the trick. For other elements that you can use to create a Greek-themed patio, read the tips below:
Color Choices
Color is a major defining element in Greek style and decor. While you can see spots of red and orange in the Greek islands because of their bougainvillea plants, the colors cobalt blue and white dominate the scene.
You don't have to color everything white. It's mainly used in houses within Greek islands to deflect the heat of the sun. Unless you are using it for that purpose, you should stop yourself from painting your exterior white.
You can simply choose a backdrop for your patio that you can paint white, and later, you can add accessories with blue colors. The key is to allow white to be the primary color in your patio. You can introduce blue through furnishings, decor, and furniture.
But that's not all. You can complete a Greek Mediterranean look with colors of earthy brown and other warm, sandy hues.
Shading Options
The midday sun during summer is hot in Greece. Nobody wants to sit out in that heat. So Greeks, like any other Mediterranean people, love to sleep in the afternoon. It's also one of the many reasons you'll often see trellis or canopies in Greek gardens where people can sit out, relax, or sleep.
Do the same with your patio and create a cool shaded spot in which you can take the afternoon off after a long day at work.
Motorized retractable awnings are the perfect shading option as you'll have an instant reprieve from the sun with just a push of a button. You can also add a trellis, pergola, or arbor with climbing plants to create additional shaded areas. Add some seating and lounge chairs where you can take a nap or have some wine to cap off the day. A shaded spot can also work as an outdoor kitchen, bar, or dining space.
Dining Space
Food is a major part of Mediterranean culture. Adding a Greek-style dining space can make you feel like you're eating on a beach in Greece, enjoying the sunset.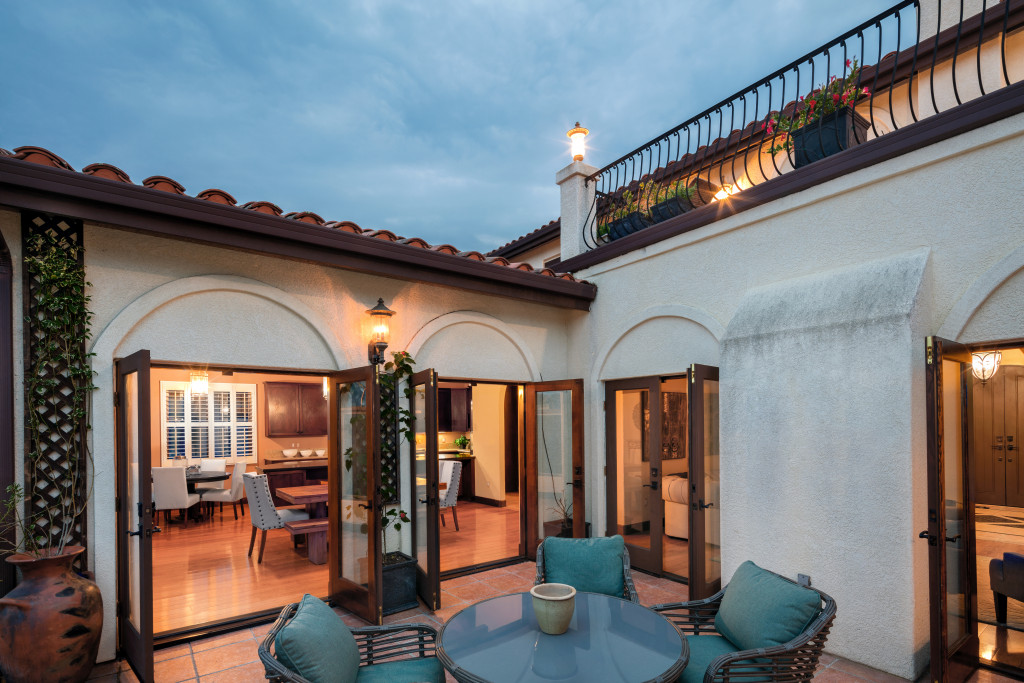 Start with wooden seating options, cushioned with pillows dressed in Mediterranean patterns. Go for comfortable rattan chairs instead of heavy, hardwood seats. They're more affordable and easy to carry. Add a few benches of the same material too. Seating on a bench makes dining with friends and loved ones more enjoyable, just like Greeks do. For the table, you can use any material. Just add linens, serving plates, glasses, and platters with Mediterranean colors.
Plant Choices
A Greek garden is made to withstand extreme changes in weather—from harsh summers to frigid winters. Add plants that can survive such changes to recreate a Greek-style garden. Succulents are an excellent option. They're low maintenance, needing only well-aerated soil with lots of drainage. Some succulents you can get are haworthias, aloes, and echeverias.
A staple in Greek gardens are olive and citrus trees. You can add them in your patio, but keep citrus trees potted. You'll need to bring them indoors when the weather gets too cold. You can leave olive trees in your garden all year long. They'll provide a light fragrance to your patio.
Your best option is to stick with drought-tolerant perennials and plants native to your region. Check with your local nursery as they will most likely have native plants. You can also get other plants such as bougainvillea, cypress, herbs, poppies, and pelargoniums.
Walls, Flooring, and Structures
Greek decor embraces natural elements in its archways, flooring, and structures. You can recreate this design. A whitewashed stone archway can add a dramatic effect to your patio. A pillar or column that acts as a support for shading or pergola can also do the same. As for your flooring, you can use gravel or stone. Terra cotta is also a dominant material in the Greek aesthetic. You can use terra cotta planters for your succulents and tiles for your walkways and a water feature.
Many people want to vacation in Greece. But with the current global situation, all you can do now is add Greek elements to your home decor, especially for your patio. Take inspiration from these tips and create your Greek paradise right in your backyard.