Plasterboard is a popular building material used for interior walls and ceilings. It is made of gypsum pressed between two layers of wood. This is a drywall material, which is an alternative to traditional plaster and lath.
Plasterboard Sizes
For your home wall finish, plasterboards can be a cheaper but sturdier option compared to wet plastering. The plasterboards come in various thickness and sizes, including the following:
3/8 inches thick or 9.5mm
½ inches thick or 12mm
The much bigger plasterboards are occasionally 8x4ft or 2.4×1.2m. These can be easily cut up using a plasterboard cutting tool. Smaller sheets, which are referred to as plasterboard laths, are available for easy handling and transportation.
There are also available plasterboards of 15mm and 19mm sheets. They are often used for fireproofing or soundproofing a specific area. Lastly, there are various makes of plasterboards that can be used for several projects; in fact, a different board is used when the surface is plastered instead of being painted.
Plasterboard Kinds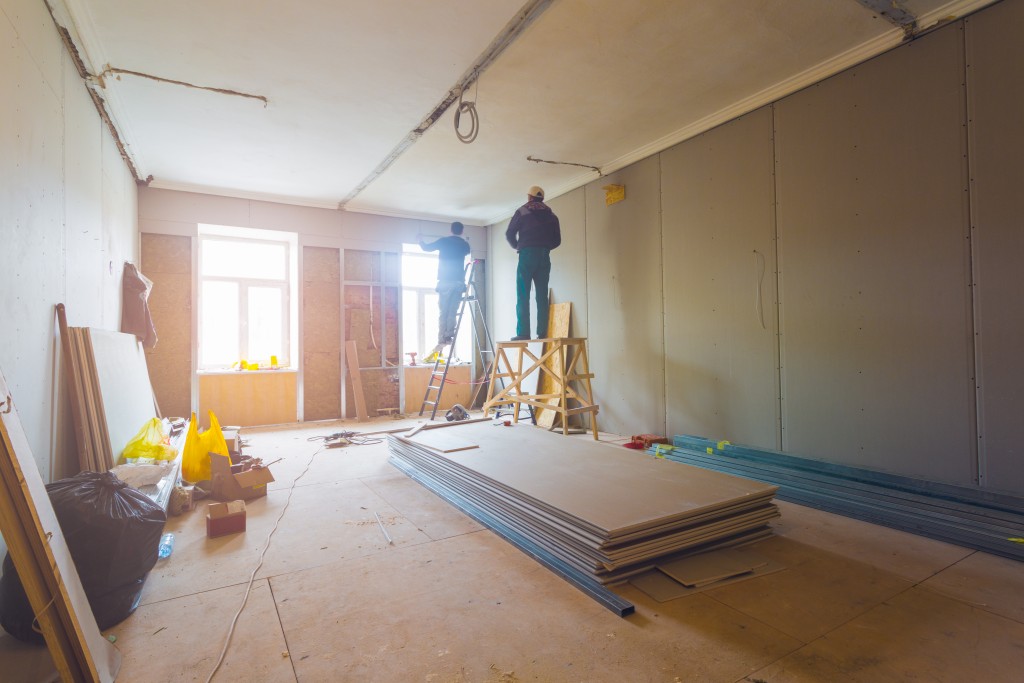 The Wall Board – The wallboard is perfect for almost all applications whether for structural, fire specs or normal sound levels. The normal wallboard can be set up at a double thickness to afford better resistance with sound or fire.
As to the face of the board that you must decorate or plaster, you should always pick the ivory face of the plasterboard. Because when you use the reverse side, there is a chance that it will fall off. The paper found on the front side of the board is made and crafted to take the skim plaster off. Moreover, if you intend to paper or paint on your plasterboard, you have to seal it first.
The Sound Reduction Plasterboard – The sound reduction or acoustic plasterboard comes with a high-density core that affords a high level of sound insulation for soundproofing. It is best on thin walls and ceiling, which make it very useful for blocks of flats.
This kind of plasterboard is widely used together with mineral wool and several other soundproofing materials like resilient bars. These keep the surface of the board away from the surface to permit the passage of sound vibrations.
The Vapour Check Plasterboard – This plasterboard has a very thin metallic film on the other side of the sheet. This film helps prevent vapour from passing through the board, leading to condensation when they pass through cold surfaces. They are widely used for dry lining buildings to ensure it is kept warm and well insulated at all times.
The Water Resistant Board – This board provides a water resistant feature with the water repellent additives in the board itself making it a perfect base for tiling wet areas. This plasterboard has a green face and is not often plastered. They are excellent for very humid places. However, as gypsum plasters soak up moisture or water real fast, it can be useless to plaster these.
The Fireboard – The fireboard has glass fibre included and other additives that help make it fire resistant. The fireboard has a pink face that can be plastered or painted.
The 4-in-1 Plasterboard – The innovation in technology prompted manufacturers to create plasterboards that feature not only the usual qualities of normal plasterboard but are likewise fire, water, sound, and even impact resistant.
The Impact Plasterboard – As the name suggests, this kind of plasterboard is made to resist day-to-day impact and sudden knocks. They are protected with very dense materials that were added to the board.
Plasterboards are versatile and durable materials with different uses. Choose the right variety to fit your needs.