Have you ever wondered why you feel calm and relaxed every time you enter day spas? Or have you noticed that you can tell that the hotel is fancy by smell? It's all because they utilize the power of scent diffusers to set the tone of the area.
Aside from our eyes, the first aspect we notice when entering a foreign space is its distinct aroma. Circumstances such as this affect every new, unfamiliar area into which we venture. And take note that even though we think that our home doesn't have a distinct smell, it doesn't stray from the fact that others can smell something they're not used to. Ergo, when planning your house's interior design, don't forget about its scent.
Why You Should Never Forgo Scent in Designing Your House
If you've lived at your home long enough, the chances are that you have gotten immune to your house's scent. The aroma of your indoor spaces subsides the longer you live in that area, and yes, it's perfectly normal. However, this doesn't mean you should ignore the musky smell your house has been emitting for years.
Spreading fragrance throughout your room is a sure-fire way to improve the ambiance of the area. By choosing to install scents that suit you the most, you can combine your room's design with your personality and tastes. With this, you can add your unique flair to the room without sacrificing its layout.
How to Use Scent in Your Home to Improve Its Ambience
Reconstruct Your Space Without Moving Anything
By utilizing the power of fragrances, you can transform your home into any location you want it to be. For example, use scented candles that emit pine forest or black oak fragrances to turn your living room into a lovely forest you'd get lost in. Another great way is to add scent diffusers by the entrance of your home. With this, you can instantly greet guests with wafts of sweet fragrances you adore. However, try to refrain from strong scents to avoid sensitive guests from getting sick.
Mix and Match Fragrances
Akin to painting the walls, you can mix multiple complimenting scents to your liking. Start with soft aromas such as pear and apple fragrances and add autumn scented candles to complete your fall-themed room. The possibilities are endless when you learn how to mix fragrances successfully. Alongside experimenting with different aromas, take notes of suitable mixtures that fit a different theme in mind. You never know; you might need to use that mixture in a separate room or season.
Explore More Options
Adding fragrances to your house doesn't end with candles and diffusers. There are a plethora of ways you can add an inviting aroma to your room. There are linen sprays, oil diffusers, sachets, and more. Go to your nearest Bath and Body Works to check for more options. Pro-tip: It's best to buy scent diffusers physically. Buying online might be easy, but you won't be sure if you'll like the fragrant you choose.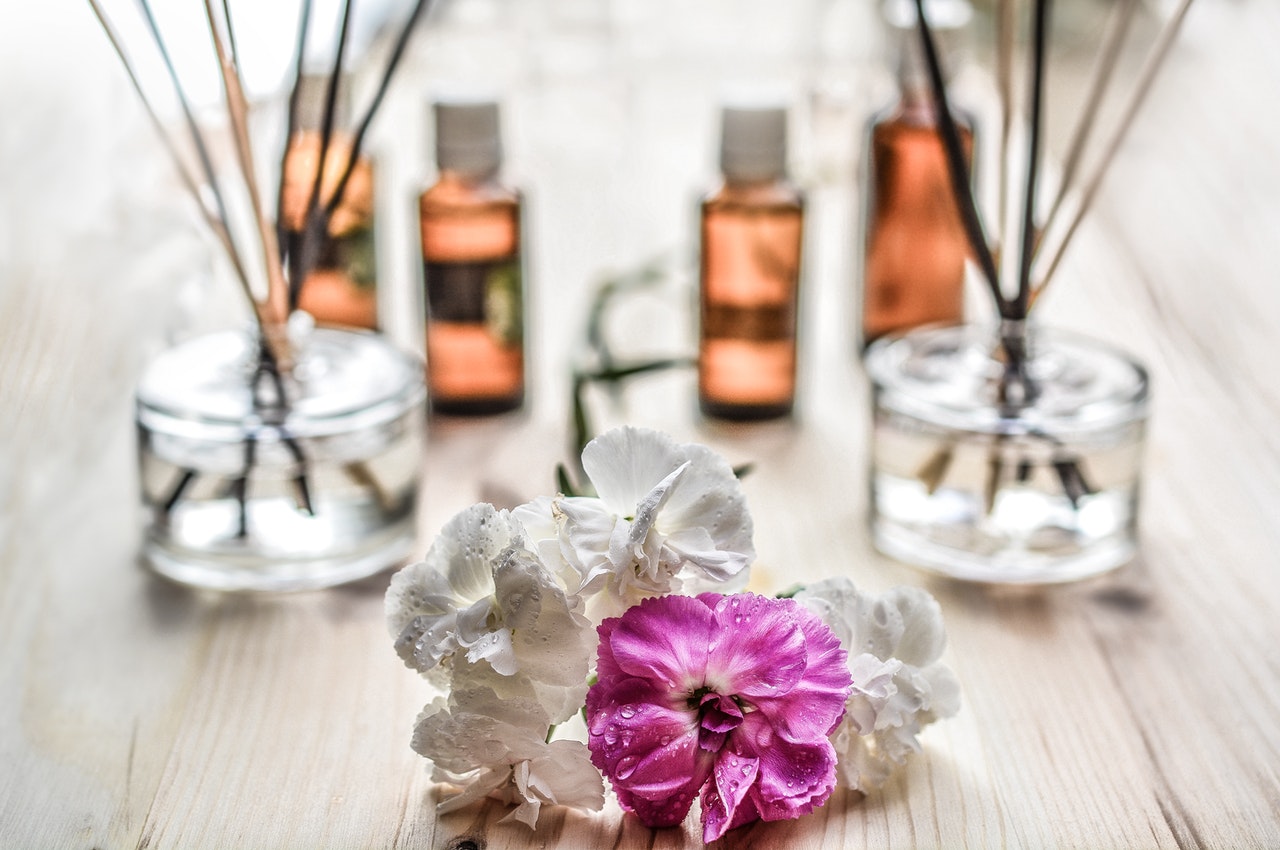 Use Different Scents Per Room
If you want to have a universal aroma around the house, that's fine. However, if you're going to branch out more, you have the option to use separate candles per room in your home. As with the mix and match section of this post, it's best to have complimenting scents for nearby rooms to avoid overpowering your senses.
How to Make Your House Scent-Ready
Clean, Clean, Clean
Yes, we should always clean our rooms, but it's more vital than ever to throw out the garbage to stink up the whole place. Empty your garbage disposal regularly, clean your carpets and rugs, and throw out your pet's litter every day.
Check Your Air Vents and Remove Flammable Materials
If your go-to scent diffusers are candles, it's best to remove or reposition dangling materials that might catch on fire. Start with actively placing your candles in an area away from the furniture and curtains and throw out pieces of paper.
After removing fire hazards, check your air vents if it functions the way it should. Air vents should blow throughout the room and spread the scent all over the house. If you have multiple air vents that compete in direction, the fragrance might not spread evenly.
Incorporating scents in interior designs are often ignored by first-time homeowners and amateur designers. Hopefully, with the tips listed above, you can now transform your living area into something you have always desired. By adding fragrances to your room, you will improve everyone's mood in the vicinity and let them feel more relaxed than ever.