The pandemic that's been raging on for more than a year now unwittingly gave millions of homeowners across the US an excuse to finally realize their long-awaited and much-delayed home improvement projects. With the time that they suddenly have a lot of in their hands, property owners were able to concentrate on their respective DIY-style or professionally contracted home additions.
This sudden boom in home improvements spurred the growth of various industries related to the craze: hardware stores, local nurseries, furniture shops, gardening supplies stores, and home centers, among others. Data from the US Census Bureau showed that back in July 2020, these businesses tallied a 22 percent year-over-year spike in total sales attributed to the home improvement industry boom.
Fast forward to 2021 and there is still a great number of homeowners who continue to take on their dream home additions as a way to combat boredom, make their homes more relaxing, or add features that allow them to work or study comfortably and productively.
Here are five great add-ons you should consider for your planned home improvement project:
Outdoor living amenities
For many property owners, their idea of a worthwhile home improvement involves having their outdoors become extensions of their indoor living spaces. If you share the same view, then you should have a few outdoor living amenities built on your lawn or backyard.
For example, you only have to connect with your local patio builder to have a custom patio with your desired design. Some contractors use decorative concrete using two methods: staining and stamping. Both of these methods make the otherwise cheap-looking concrete look like expensive materials such as natural stone or brick.
Aside from a patio, you could also have a deck, outdoor kitchen, or sitting walls to increase your landscape's functionality and appeal. Just choose which of these outdoor living amenities suits your budget and available space, as well as your desired benefits.
A garden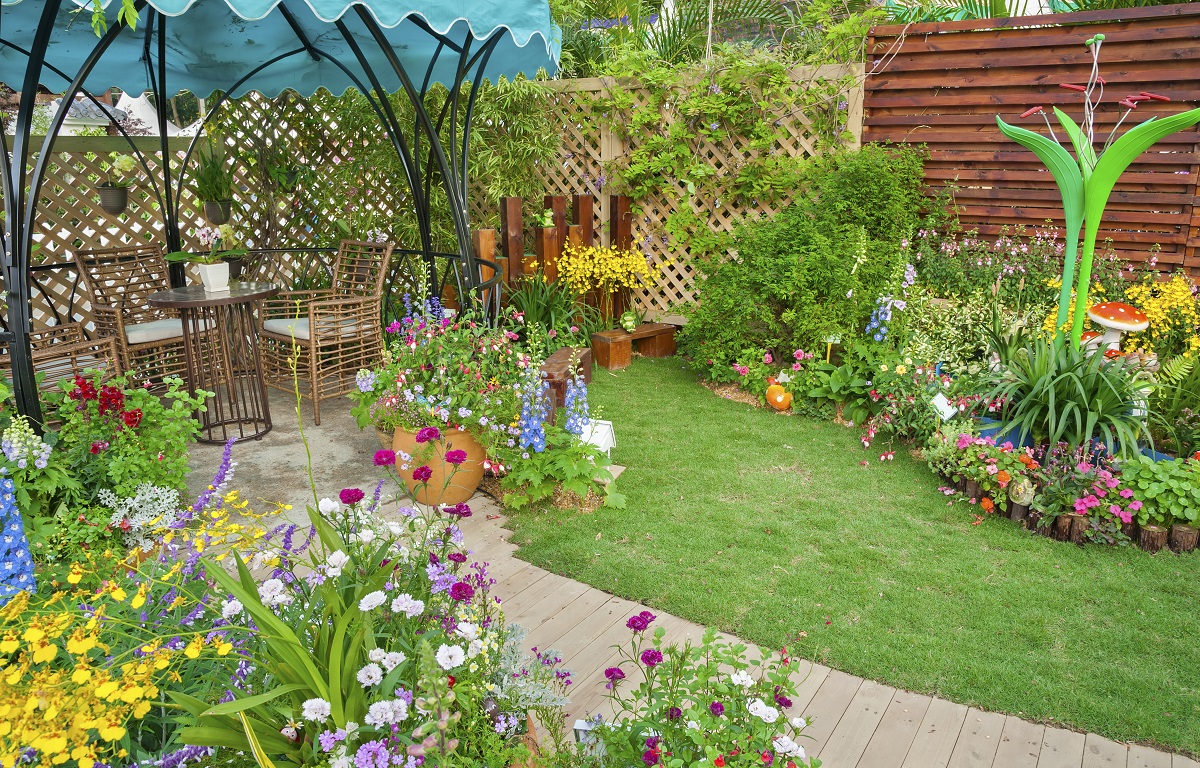 Gardens of any sort can turn any plain-looking yard into one that is absolute eye candy, as well as a truly functional and inviting space in any private property. Thus, you should also consider installing a garden in your outdoors to give it an appeal that your family can be proud of.
There are several
you may choose from such as rock garden, vegetable garden, flower garden, herb garden, and even butterfly garden. These gardens have unique features and benefits so you need to determine the one that perfectly satisfies everything you're looking for.
Aside from the perks and features, you also have to consider your budget, since these options have varying budgetary requirements. The good news is that whichever one you eventually chooses, your property will nonetheless be more inviting and attention-grabbing with the addition of a great feature.
Solar power setup
Your home will consume electricity for as long as it stands, which is why it makes perfect sense to invest in a feature that will at least lessen your dependence on the electricity being supplied by the power grid. And what better way to do it these days than by investing in a solar power system that could pretty much supply the power that you need daily?
Right now, there is an increasing number of residential property owners who are realizing the beauty of having a sustainable source of power for their homes, chief of which is solar energy. This green energy source is free, affordable, and is infinitely available.
There are now a lot of professional installation companies specializing in residential solar power setups, so you may inquire about the perfect configuration based on your average daily or monthly electrical consumption.
Conservatory
If you have a considerably large budget for your scheduled home improvement project, then you should consider investing in a conservatory. This outstanding home addition can be designed and built as a standalone structure or as an extension of your home.
Additionally, it can function in a variety of ways depending on your needs: it can be a greenhouse for your plants, receiving area, home office or library, dining area, or a place for family gatherings. It's a nice touch to any home that needs a major aesthetic boost, as well as improvement in terms of functionality.
Energy-efficient home appliances and electrical fixtures
Aside from solar panels, you can also save big on your monthly power bills by investing in some power-efficient home appliances, as well as lighting fixtures such as LEDs or CFLs.
For appliances, they need to have high energy efficiency ratings to be sure about their power-saving benefits in the long run. There are plenty of home appliances right now that are specifically designed to consume energy in the most efficient way possible, so getting the right ones for your home should be easy.
With these great home add-ons, your home should have significant improvements in appeal, functionality, and energy efficiency.