The kitchen is one of the most important parts of a house. Not only is it where family members eat together, but it is also where most of the appliances and supplies are stored and are within reach. While some people rarely find the time to cook, kitchen productivity can be affected by the room's appearance. Having an inviting, open, and stunning kitchen is not only appealing to the eyes of possible visitors, but it could also encourage you to stay and try to cook more often! Having a small kitchen doesn't have to be an issue when you want to do some remodeling. Here are fresh new ideas to achieve a perfect make-over for your kitchen:
Open Up Space (Literally)
One thing that could possibly make your kitchen look small is the overhead cabinets that tower over people's heads in the small space. For a time, cabinets seemed like a standard and must-have design in kitchens due to their functionality, but if you have to work with a small space, you could try switching to alternatives while maintaining good quality. Open-shelving is a method recommended for small kitchens. If you could get the items organized on racks and holders, then it would definitely make your kitchen look more open and spacious! Plus, it's a great way to show off kitchen ingredients, pans, cooking pots, and other fixtures.
Add More Light
Having a well-lit kitchen is not only essential when cooking and eating, but it could also give off a much more open and relaxing ambiance. Installing windows in your kitchen to let more natural light in works well, but hanging a few pendant bulbs from the ceiling instead of the simple fluorescent ones could do the trick. Plus, hanging bulbs come in different designs that you could choose from to add more appeal to your kitchen.
Countertop Jazz
Speaking of jazzing up your kitchen, do not let the small space stop you from being experimental and creative with design options. Every room needs to have a focal point—the immediate space in which the eyes are immediately drawn to. For people looking to beautify their kitchen, make your countertop the focal point. Make sure you choose your countertops wisely, whether you're looking for a quartz, laminate, or granite countertop from trusted Layton providers. Make sure that it is not only beautiful but also of great quality for your home. You won't be the only one looking at them!
Flooring Techniques
Oftentimes, when a person first walks in a room, their eyes immediately scan the area from the bottom going up. In the case of small kitchens, their flooring is extremely important. However, if you're on a tight budget and aren't looking for a total kitchen makeover, you could opt for the standard flooring material for narrow kitchens—linoleum. Horizontal tiles are also recommended to complete the optical illusion of a spacious kitchen.
Get Creative yet Mindful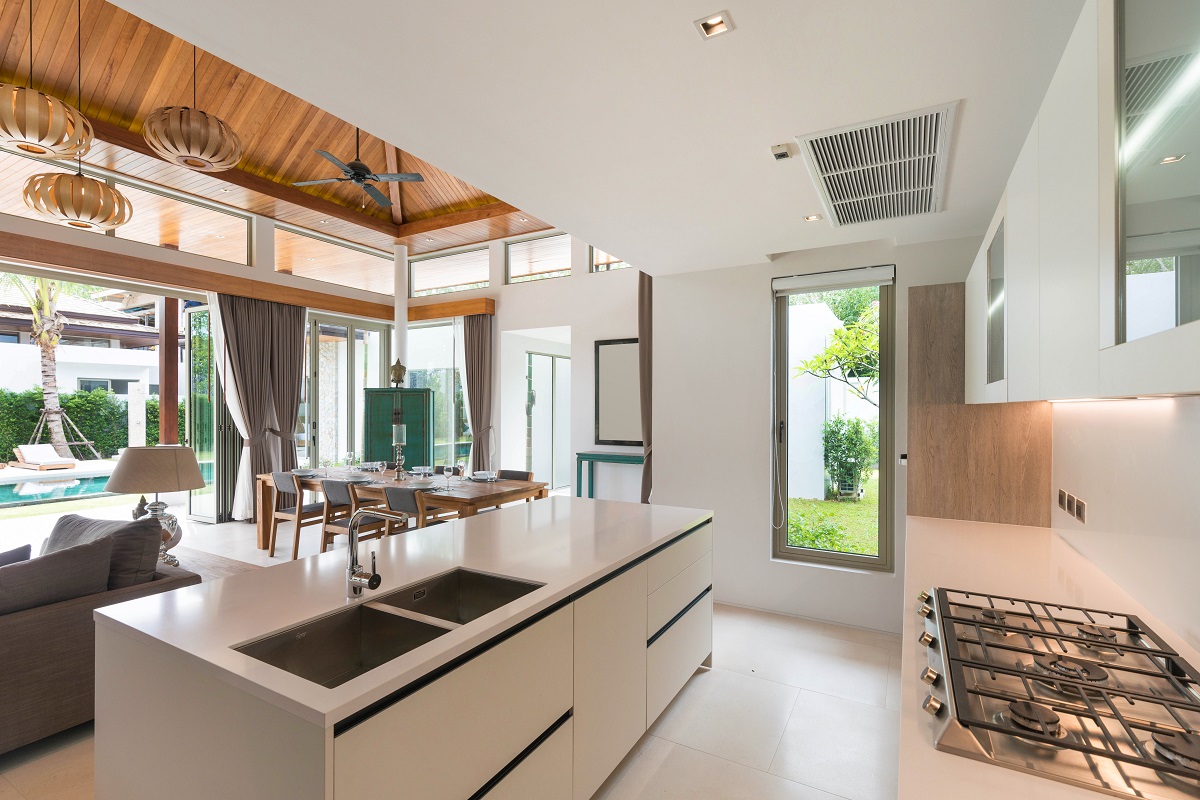 There are ways to actually lessen the vibe of a cramped kitchen and have it look more open, and the majority of those ways depend on visual tricks among many other factors. Remember that you're only working with such a limited space, so adding a little bit of flair in the process is your best bet!