The COVID-19 pandemic has taught many about the importance of their homes. Aside from being a place of shelter, a home can provide a sense of comfort, peace, and relaxation. And as health restrictions slowly ease, many homeowners are devoted to taking care of their properties.
More and more people are allocating their time and money to invest in home improvement. In a recent forecast by the Globe Newswire, the home improvement market have reached $333.7 billion in 2021. That means by 2028, revenues will probably reach $514.9 billion.
So, there's no better time to jump on the home improvement bandwagon. If you're looking for ways to make your property feel more like a home, here are some ideal additions you can make:
Invest in Cozy Textiles
One of the best ways to cozy up your home is by investing in warm textiles. It could include items like blankets, throws, rugs, and pillows. These items can add both comfort and style to any room. They can also transform a space from feeling cold and sterile to warm and inviting.
When shopping for textiles, it's essential to consider your area's climate. If you live in a place filled with cool winter days, opt for materials that provide extra warmth. Wool, cashmere, and flannel are all great choices. For homes in hotter climates, try lighter fabrics like cotton or linen.
These materials are widely available, too. So if you're on a budget, you can look for second-hand stores or thrift shops for pre-loved textiles. You can also check out online stores that sell vintage or handmade items. Whatever route you choose, ensure the materials you select match your home's overall aesthetic. This way, they can seamlessly blend in with your existing décor.
Add Some Greens
Another way to make your home feel more comfortable is by incorporating indoor plants. Not only do they add a touch of nature to any space, but they can also boost your mood and purify the air.
When selecting indoor plants, it's essential to consider your home's layout. If you have pets or small children, steer clear of poisonous plants. Some examples include aloe vera, dieffenbachia, and philodendron. These plants can be harmful if ingested and should be out of reach.
It's also essential to pick the right pot or planter for your plant. If you want something that will make a statement, go for an eye-catching material like ceramic or brass. If you're looking for something more subtle, try a neutral-toned pot made from clay or concrete.
For those that don't have a green thumb, there are plenty of low-maintenance plants you can choose from, like succulents and snake plants. These kinds of plants only require minimal watering and can thrive in most types of lighting conditions. Doing so will help you create a cozy space without too much work.
Incorporate Lounge Chairs
Many of today's most inviting homes feature a unique indoor hanging swing chair. It's a great way to add style and functionality to any room. These chairs come in a variety of materials, sizes, and colors. So you're sure to find one that fits your space and personal taste.
Not only are lounge chairs aesthetically pleasing, but they can also be incredibly comfortable. They provide the perfect spot to relax after a long day or curl up with a good book. If you have the room, you can add multiple beanbags to create a cozy reading nook.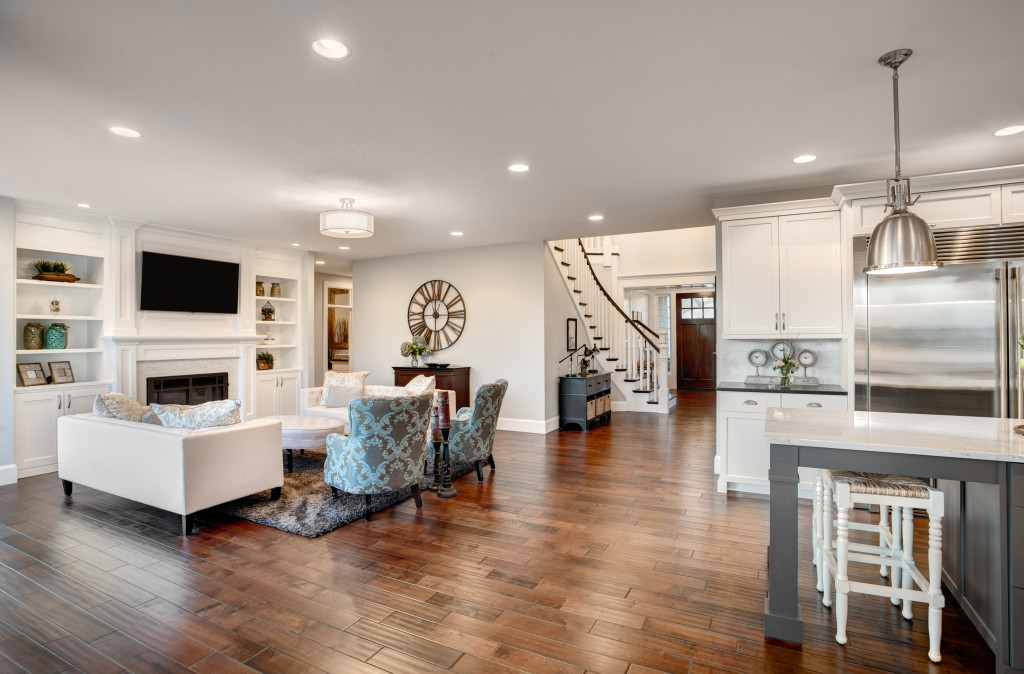 When shopping for a lounge chair, it's essential to consider your needs. If you're looking for extra support, choose ones with built-in armrests and back cushions. For a more lightweight option, go for a hanging chair made from rattan or wicker.
These chairs can be hung from the ceiling or placed in an empty corner. Make sure there's enough space around it so you can move freely. With the right lounge chair, you can turn any room in your house into a cozy oasis.
Stick to Warm Colors
One of the quickest and most effective ways to change the feel of a room is by painting the walls. And if you want to make your space feel cozier, consider using warm colors. These hues include shades of yellow, orange, red, and brown.
Using these colors will create an inviting and comforting atmosphere in your home. However, it's essential not to go overboard. Too much of a warm color can make a room feel cramped or cluttered. Instead, use them as accents or pair them with other cooler shades.
You can also add pops of color through your furniture and décor. Curtains, carpets, and rugs are all great ways to introduce new shades into your space. And if you're looking for something a little more permanent, consider using wallpaper. Either way, make sure the colors you select complement each other and match your home's existing palette.
The above are just a few ways to make your house feel cozier. By incorporating these elements into your space, you can create a comfortable and inviting home that feels like your own personal oasis.