The idea that men's wear is limited to only a few colors and styles is an old-world view of fashion that many designers today are trying to overcome. There are many more options for men than there were in the past. Flourish and adventurous choices are highly encouraged in many circles.
Of course for work and formal occasions, the best and most effective outfit will always be the suit. Maintaining the proper look of the suit relies heavily on the people you trust to clean your clothes. Heavy pieces such as suits and blazers must be entrusted to an experienced laundromat. It will benefit you to use the same one repeatedly as they will learn how you like your suits cleaned and can help suggest and make minor alterations to keep it fitting well.
Outside of the formal spaces, it is much more acceptable nowadays to pair formal and informal wear to create an elevated casual look. A cardigan is comfortable but, with a pair of pressed slacks and dress shoes, would be appropriate for a brunch date as well as a visit to the museum. Finding the combinations that work for you is mainly about understanding that style is forever while fashion trends come and go. Go for what makes you feel good about yourself while making you look polished and sharp.
It's Not Just About the Clothes
Clothes are the beginning of looking good. Accessories are what complete the look and make you seem well-put-together. This does not mean that you need to wear many small pieces of accessories, it simply requires you to pay attention to how an accessory can complete an outfit.
The best accessory any man can have is a good watch. A well-made watch speaks volumes about the person wearing it. Get a watch that appeals to you and fits well. It is an extension of your personality and must be something that you want to wear all the time.
Pair a bold tie with a matching belt and shoes to help set off a light-colored suit. A pair of personalized cuff links and a funky bow tie with a navy suit will look unique and help you stand out among a sea of navy suits.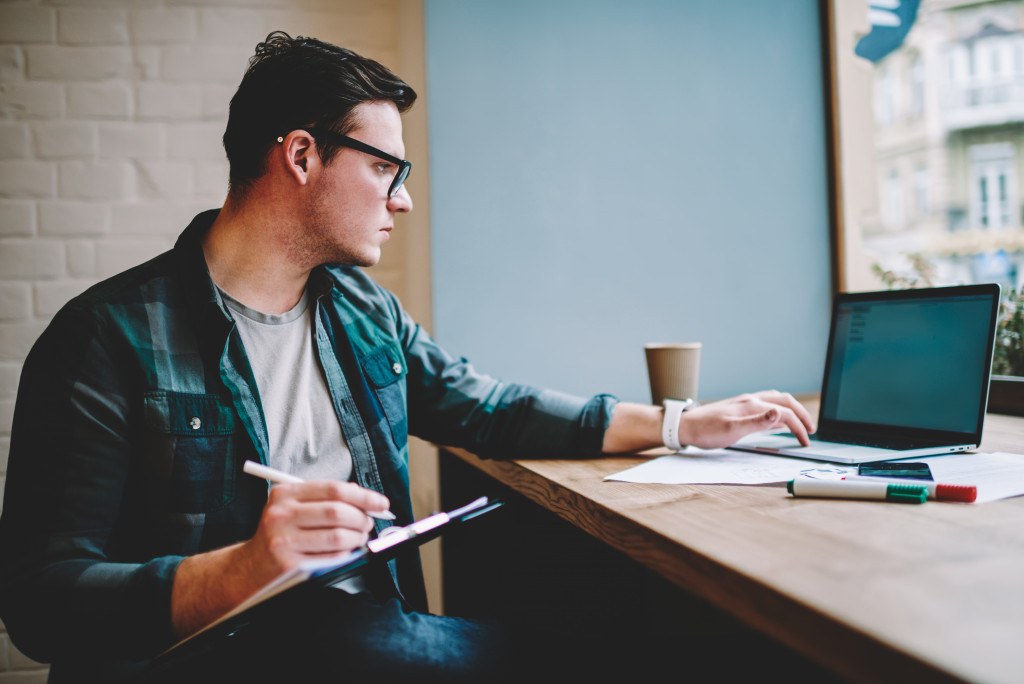 Embrace Color
The era where men could only wear combinations of white, black, and beige is very much over. Used well, inserting color into your wardrobe can have the combined effect of making you enjoy getting dressed plus helping you stand out from the crowd.
People look to trendsetters as leaders and establishing yourself as an individual through your style can help you to attract this type of attention. Till you figure out which colors you enjoy and the amount to which you want to indulge in colorful clothing, go minimal. One bright piece paired with a monotone outfit can make a big impact without looking garish. A very easy tip is to use the color chart to ensure that the colors you are pairing will complement each other.
There is Never Enough Denim
Everyone looks good in denim. It is a great way to be comfortable while looking stylish in a casual setting. Nowadays, colored denim combined with good tailoring is allowing people to wear denim from lazy weekend barbecues to semi-formal events.
Choose a pair that fits well and makes you feel good. It should be a color that pairs well with all your t-shirts and most of your semi-formal shirts. Then wear them constantly so that they begin to take shape and mold to your shape. This is when the jeans will truly look good on you.
Try to avoid distressed or pre-distressed denim as this is very hard to dress up. While denim jeans and jackets are being more accepted in everyday wear and most events, distressed denim can be very difficult to pull off. It is best to avoid it altogether as the potential for embarrassment is higher than the likelihood of style success.
A very important aspect of looking good is presenting yourself well. This is where the real work of dressing well comes into play. It does not matter how expensive your shirt is, if it is not ironed then it will not help you to look good. Making sure that your clothes are clean, ironed well, and the correct size for you is the only way to ensure you get the most out of your clothing.
The way you groom yourself also matters. Uncombed hair and dirty nails will not send the right message no matter how fashion-forward your clothes may be. Establish a grooming regimen where you keep your hands clean, your hair combed, your skin cleansed, and you will look magazine-ready at all times.
A groomed appearance in combination with well-fitted clothing work for anyone of any size and shape. If you are a bigger man or a more slender individual, the reason you feel unable to attain a polished image may be because you do not get your clothing tailored to fit you correctly.