Becoming an esthetician is a great way to enter the beauty industry. It can also be a fulfilling career choice for those who love making people look and feel their best. But before you can become an esthetician, there are some essential things you need to know. Here are six tips that will help you on your journey to becoming a successful esthetician.
1. Get the Proper Education and Training
The first step to becoming an esthetician is to get the proper education and training. This can be done by completing an accredited esthetics program at a vocational school or community college. You'll learn about skincare, makeup application, and other essential topics during your schooling. You'll also have the opportunity to practice your skills in a real-world setting.
If you want to specialize in a particular area of esthetics, you may need to take additional courses like the PDO thread training. These courses will give you the skills and knowledge you need to excel in your chosen area of focus.
2. Get Licensed in Your State
Without a license, you won't be able to work as an esthetician. Each state has different requirements for licensure, so it's important to research the requirements in your state. Once you have all the necessary paperwork and documentation, you can apply for your license. The process typically takes a few weeks, and once you're licensed, you'll be able to start working as an esthetician. Here are some common requirements for licensure:
You must be at least 18 years old
You must have a high school diploma or equivalent
You must complete an accredited esthetics program
You must pass a state board exam
3. Choose Your Work Environment
It's important to consider your work environment when you're starting your career as an esthetician. Do you want to work in a spa, salon, or other professional settings? Or would you prefer to work from home or rent a space in an existing business? Each option has pros and cons, so it's important to think about what would work best for you.
You'll also need to decide if you want to work full-time or part-time. This can be difficult, especially if you have other obligations like school or family. But it's important to consider your lifestyle and what would work best for you.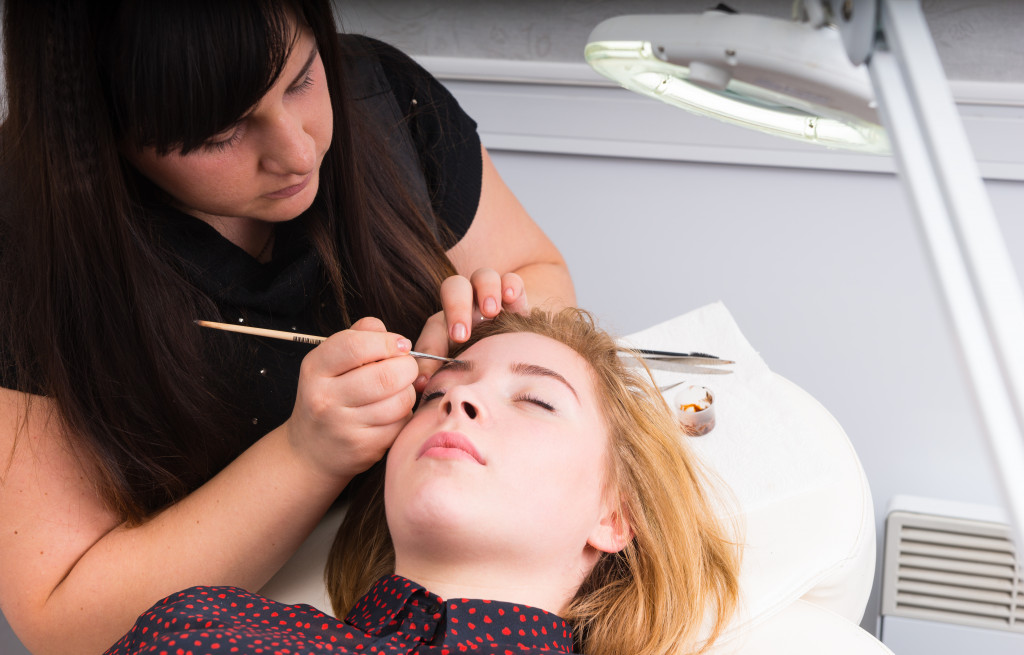 4. Invest in the Right Tools and Products
As an esthetician, you'll need to have the right tools and products for your job. This includes things like skincare products, makeup, and other supplies. Investing in high-quality products that will help you provide the best possible service to your clients is important. For example, you may want to invest in a good skincare line that offers a wide range of products. This will give you the ability to customize each client's skincare routine and help them achieve the best results.
Not only should you invest in high-quality products, but you should also make sure you have the right tools for the job. This includes things like facial steaming devices, extractors, and other equipment. Having the right tools will help you provide a better service and make your job easier.
5. Promote Yourself
No matter how good you are at your job, you won't be successful if you don't promote yourself. There are many ways to promote yourself as an esthetician. You can start by creating a strong online presence. This includes things like having a professional website and social media accounts. You should also make sure you're listed in online directories and that you have good reviews.
In-person promotion is also important. You can hand out business cards and flyers, and you should always be prepared to talk about your business. You never know when you'll meet someone who's interested in your services.
6. Stay Up-to-Date on Trends
The esthetics industry is constantly changing, so it's important to stay up-to-date on the latest trends. This includes things like new skincare products, makeup trends, and other industry news. There are many ways to stay informed, including reading magazines and blogs, attending trade shows, and taking courses.
Keeping up with the latest trends will help you provide the best possible service to your clients and stay ahead of the competition. Not only will this help you attract new clients, but it will also help you retain your existing ones.
By following these tips, you'll be on your way to starting a successful career as an esthetician. Just remember to take your time, do your research, and invest in the right tools and products. And don't forget to promote yourself!