Many people are stressed out from work or school and need a vacation. If you are constantly exhausted, you should consider going on a vacation to relax and rejuvenate with your friends.
Whether you're looking for a relaxing weekend away or a full-fledged vacation, we've got the perfect ideas for you and your friends. There's something for everyone on this list, from beach towns to mountain getaways. So pack your bags and get ready for some fun!
1. Rent a cabin in the woods for a weekend of relaxation
If you're looking for a weekend getaway that's both relaxing and enjoyable, look no further than a cabin in the woods. Whether you're looking to escape the hustle and bustle of city life or simply want to spend some quality time with friends, a cabin rental offers the perfect setting.
Most cabins are located in beautiful natural surroundings, providing you with a front-row seat to stunning scenery. Many also come equipped with hot tubs and fireplaces, making it easy to relax and unwind.
And since cabins are typically rented weekly, you'll have plenty of time to explore your surroundings and participate in activities like hiking, fishing, and kayaking. So if you're looking for a fun and unique vacation experience, you should rent a cabin in the woods. You won't be disappointed.
2. Visit a national park
A visit to a national park is a great way to experience some of the best that nature offers. You can visit many different parks in the country, each with its unique features.
For example, Yellowstone National Park is home to various wildlife, including bison, elk, and bears. The Great Smoky Mountains National Park, on the other hand, is known for its beautiful scenery and hiking trails.
You can also plan plenty of activities to keep you busy. UTV national park tours are a great way to see the sights, and you can also go horseback riding, fishing, or camping.
3. Head to the beach for some sun and surf
As the summer sun starts to beat down, there's no better way to cool off than by heading to the beach for a day of fun in the sun. Whether you're looking to catch some waves or soak up some rays, the beach is the perfect place to relax and unwind.
And what could be more fun than spending a day at the beach with friends? From building sandcastles to playing volleyball, there's no shortage of activities to keep everyone entertained.
Best of all, the refreshing ocean breeze is sure to leave you feeling refreshed and rejuvenated. Saltwater is also known for its healing properties, so it's a great place to unwind if you're feeling stressed.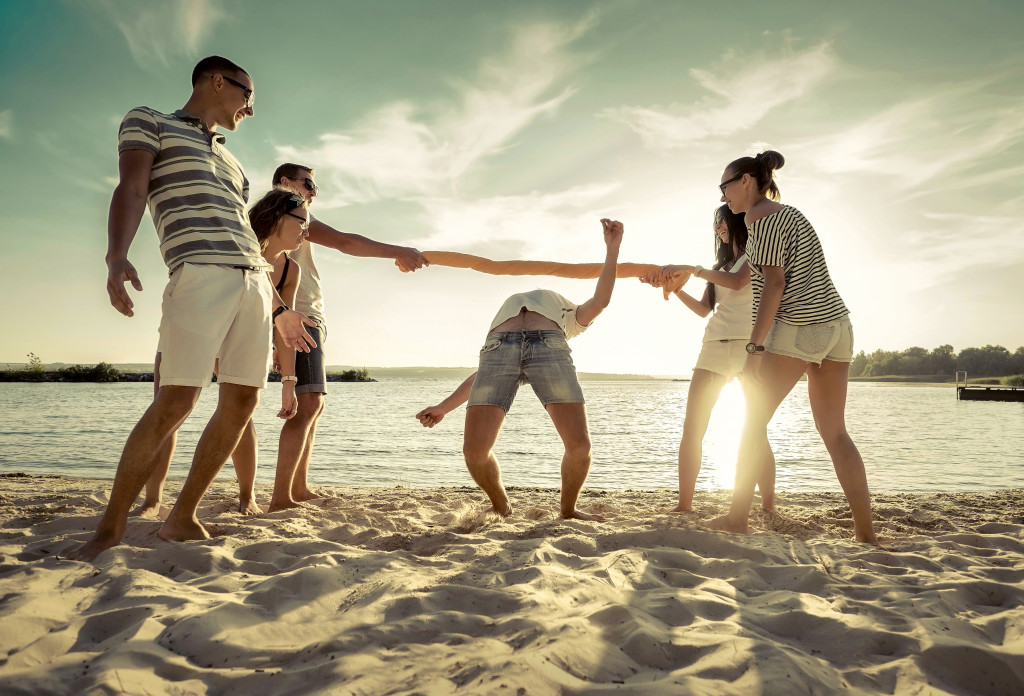 4. Book a stay at a bed and breakfast for some quiet time away from home
A bed and breakfast is a charming alternative to a hotel, offering guests a more personal and intimate experience. When booking a stay at a bed and breakfast, specify the number of people in your party so that the owners can make appropriate accommodations.
Most bed and breakfasts have between four and six guest rooms, each with its unique decor. Guests typically share a bathroom, although some rooms may have a private bathroom. Breakfast is included in the room rate and is usually served in the dining room or patio.
Many bed and breakfasts also offer additional amenities, such as afternoon tea or evening dessert. A bed and breakfast is the perfect solution for those looking for some quiet time away from home.
5. Take a road trip to see new sights and explore different towns
A road trip allows you to see new sights and explore other cities with friends. You can plan your route in advance or simply see where the road takes you. While on the road, be sure to enjoy the scenery and stop at roadside attractions.
You'll also want to have plenty of snacks and drinks for the journey. And don't forget to document your adventure with photos and videos. A road trip is an unforgettable experience that you'll cherish for years to come.
6. Plan a weekend at a spa
There is nothing like a weekend at the spa to relax and rejuvenate. When planning a spa weekend with friends, there are a few things to consider.
Decide what type of spa you would like to visit. Do you want a luxurious resort with all the bells and whistles or a more intimate day spa? Once you have settled on a location, it is time to book your appointments.
Be sure to schedule enough time for relaxation between treatments, as well as time to enjoy the amenities the spa has to offer. Don't forget to pack your swimsuit if you plan on taking advantage of the pool or hot tub!
No matter what you choose, make sure to take the time to relax and recharge. Vacations are a great way to do that – and spending time with friends makes it even better. Just pick your destination and go!