Lawn care is important, but landscaping can make all the difference. A well-landscaped yard not only looks better and feels more inviting to guests, but it also has a measurable effect on your property's value. When you go to sell your home, prospective buyers will judge the quality of landscaping as they drive up and decide whether or not they want to take a closer look inside. Here are five ways that you can boost your home's value with good landscaping:
1) Add curb appeal with plants and flowers
You don't always get a chance to stop and get out of your car while you're looking at homes. When people drive past fast on their way someplace else, all they see is the front yard. If your yard looks barren and unvisited compared to other houses on the block, you risk losing out on potential buyers who would otherwise be interested.
So if you want to add value to your home, invest in plants and flowers that make the outside look cared for and like a good place for people to slow down and enjoy. This will encourage them to come in and take a closer look even when they don't have an appointment with you.
If you live in an area where water is hard to come by, you should work with a company offering xeriscaping services. This is a method of landscaping designed for these areas. It uses drought-tolerant plants to help conserve water.
2) Use stone and patios to add space for entertaining
As your home's value increases so will the number of people who would like to use your landscaping. Patio furniture and a few lawn chairs on the porch aren't enough, add on an attractive stone patio with an outdoor gas fireplace to add extra space for you and all your friends.
If you have a big enough lawn that can handle the extra weight, add a built-in grill to add value that your neighbors will envy. Having a grill in your backyard is a great way to add value to your home. Not only does it make cooking outside easier, but it also provides a great space for friends and family to gather. Grills come in all shapes and sizes, so be sure to choose one that fits your needs and your backyard space.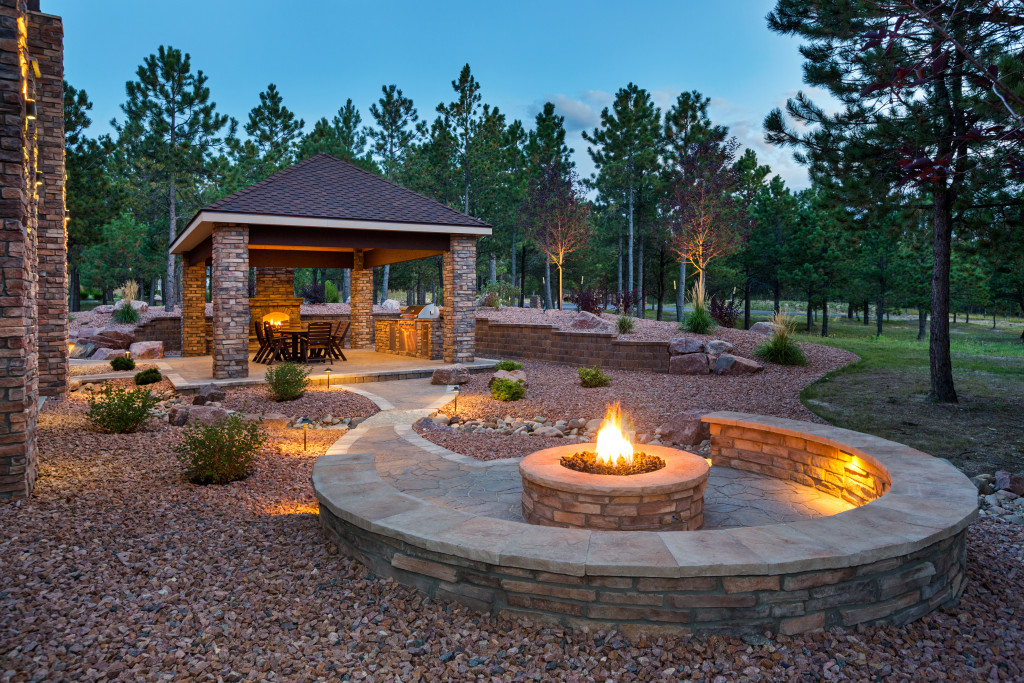 3) Put in a fire pit and outdoor lighting
When the sun goes down an empty yard is just creepy. Outdoor electric lighting helps improve safety, but it also mutes the appeal of your landscaping. Use a fire pit instead to add exciting and inviting outdoor lighting without detracting from your environment.
A fire pit will also add value when it's time for you to sell because buyers love that they can sit outside and enjoy a fire with their friends in any season. Fire pits have many benefits that make them a great addition to any landscape. Not only do they provide a cozy place to gather around and relax, but they also provide a source of heat for chilly evenings. They're perfect for making s'mores and telling stories around the campfire, and they can even be used to cook food.
Another great benefit of fire pits is that they help improve safety. By providing a focal point for outdoor activities, they help discourage people from wandering off into the dark. They also help keep people warm and provide a light source in case of an emergency.
4) Add outdoor living spaces
Outdoor living spaces are all the rage right now, and for good reason. Your space can be uncomfortable or even dangerous if you don't take precautions like installing wide, well-lit walkways and ample seating. When your backyard is somewhere that people want to spend their time, it adds value to your home.
If you want to add value, consider building a simple patio. There are many designs available depending on the style of your home and your taste. You can even add in outdoor lighting to make it safer after dark. If you have the time, take it one step further and build a place for dining or hosting friends in your backyard.
5) Make use of your property's unique features, such as city lights or a cityscape view
The most valuable real estate is considered to be above average in every way. If you want to add value to your home, improve the features that make your house stand out. Whether it's a view of the lake or city lights, something about your property makes it unlike all others in the neighborhood. Find some landscaping ideas that accentuate rather than compete with your home's best features. One of the easiest ways to do this is by adding focal points that draw attention to these features.
Landscaping is a great way to improve the value of your home. Not only does it make your home more attractive, but it can also add extra space for entertaining or relaxing.