For a few months of 2020, salons and spas were closed in accordance with shelter-in-place orders in different states. When these personal care establishments reopened, many people didn't want to risk their safety for a manicure or a haircut.
If you're one of the responsible people who practiced social distancing and lived without professional hair care for the entirety of 2020, be proud of yourself! But with the new year, you might feel like it's finally time for a change.
Fortunately, you don't have to go to the hairdresser to get a new 'do. As long as you're careful and follow instructions well, you can give yourself the hairstyle upgrades below.
What to Know Before You Start
Before you cut, color, or curl your hair, make sure you're sure about the change you want to make. While your tresses will regenerate and grow out again, you will have to live with it for months. Consider that in case something goes wrong.
It's also essential to know your hair type. There are four general types of hair, which are further divided into sub-types, depending on the texture. Knowing yours will prevent you from styling it in ways that cause damage to your tresses.
In addition, having the right tools is also essential. From the shears you'll use for hair cutting to your hairbrush and hairdryer, every tool will affect how your new 'do will turn out. You can't simply use your kitchen shears or just any hairbrush.
Before giving yourself an updated hairstyle, make sure you have at least these basics first:
Hair Brush
Comb
Blow-dryer
Flat Iron
Curling Iron
Duckbill Clips
Hair-cutting Shears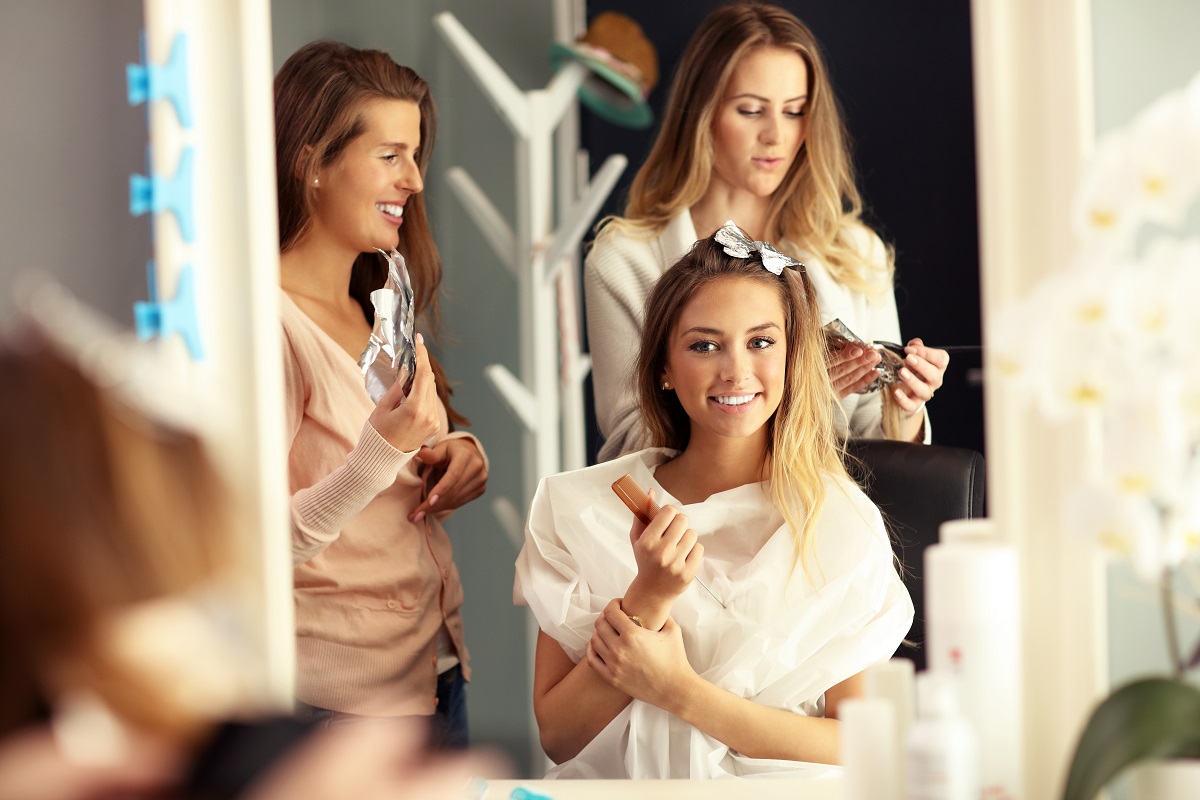 Easy At-Home Hair Styles
Armed with knowledge and your tools, you can give your hair one of these makeovers at home.
The Fringe/Bangs
One of the easiest hair makeovers with the biggest impact on your look is cutting your bangs. The best thing about bangs or fringe is that they work for every hair type, whether you have pin straight or curly hair.
However, before bringing out your shears, make sure you're cutting the best type of bangs for your face shape. Done right, bangs can make your face look more balanced and aesthetically pleasing.
The Lob
If you haven't been to the hairdresser in months, chances are your hair has grown so long it's become heavy. Cut the heavy look and feeling long hair's giving you and give yourself a lob instead.
Characterized by hair length somewhere between the chin and collarbone, lobs give your hair an illusion of more volume (especially if you incorporate curls or waves) while framing your face beautifully. And it's easy to DIY too!
The Color Change
If you don't feel like chopping off your locks, try changing its color instead. Dyeing your hair a different color is a drastic change that can take your look from drab to fab.
Of course, this is best done by a hairdresser. But if you know the right color for your skin tone, use the right coloring products and tools, and follow instructions carefully, you can pull off a beautiful at-home hair dye.
The Highlight
It's amazing how light can totally change your look and hair highlights are the best example. By highlighting select locks of hair, you can show off the lines of your haircut, create an illusion of fuller volume, and even bring out your facial features.
Like dyeing your hair a different color, putting highlights is best done by a professional. But with all the how-tos from professionals available on the internet, lots of people have managed to give themselves great highlights at home.
The pandemic may be putting a lot of your plans on hold, but it doesn't mean there's no way around it. Check hair makeover off your post-pandemic list with the at-home styling suggestions above.