Many people spend a lot of time and energy trying to find the best gym membership. Sometimes, they end up going back and forth between various gyms because none of them seem perfect enough. The truth is that you don't need a fancy gym membership to get your workout done. All you need is a good home gym setup. In this article, we'll go over seven tips for setting up your own home gym so that it's comfortable, practical, and effective for all types of workouts, including those intense ones where you want to break a sweat.
Focus on Your Budget
First off, let's go over some tips for setting up your home gym without spending too much money. If you're working with a minimal budget, then you may have to rethink your entire list of essentials. No matter how many items are on that list, they all have to be affordable. For example, if you love doing yoga but can't afford foam blocks or bolsters, use regular pillows instead. Always think about what you need the most and do your best to ensure those things are within your price range.
Look at What You Have
Be smart about your existing furniture before buying new stuff—you'd be surprised at how much storage space there is in a typical home. For example, if you have a large closet, you can probably use it to store your weights and other equipment. If you don't have any extra storage space, try looking for items that fold up or can be easily put away. You may also want to consider investing in some shelves or hooks that can be mounted on the wall so that you can save floor space.
Make Space for What You Need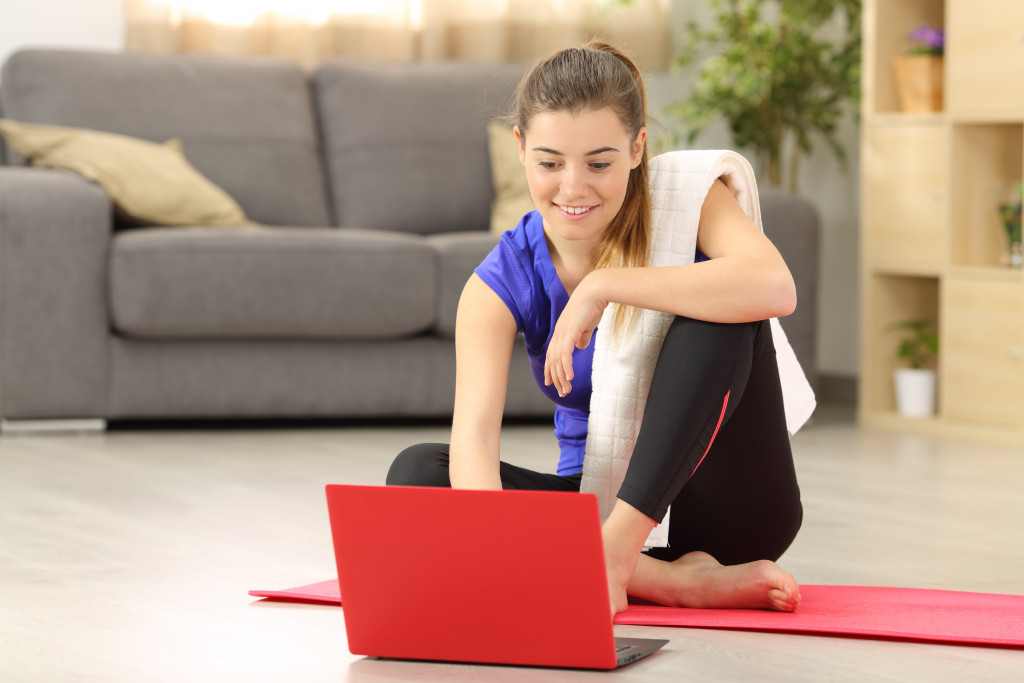 Your space will be limited, so make sure you know what equipment is essential for your workouts. That means that you can get rid of anything else. Donating or selling whatever items you don't need is a good idea. Now, if there are still some things left on your list of essentials, consider using various storage options to help organize them. For instance, why not place the yoga mat along the wall next to a towel rack?
If your budget allows, you can opt for a room addition to add more space. This can be a designated room for your home gym or even just an extra corner in another room. No matter what you choose, hire a general contractor to ensure that the project is done correctly and that the layout is practical and efficient for all of your workouts.
Make It Comfortable
One of the best things about working out at home is making it as comfortable as you want. This means that you can customize your environment however you please. Whether that means adding some plants for ambiance or installing a sound system for your favorite tunes, do what makes you feel good. A few extra touches here and there will undoubtedly add to the comfort of your workout space.
Decorate According to Your Style
From a simple but bold color scheme to funky murals, having an aesthetically-pleasing home gym isn't just about making it look nice; it's about creating a positive space where you can feel motivated. Yes, even if you're working out in the privacy of your own home, it should still be special. You could use walls or paint colors that inspire you while using other items to give yourself some easy decorating ideas. For example, if you love nature and trees, why not put up some wallpaper with leaves? Or if stripes are what get your heart racing, go for a zebra rug like this one.
Make It Functional
Whether you choose to work out, it must be functional and conducive to physical activity. That means that if you have a designated space for activities like sprinting or stretching, then don't clutter it with other things that could potentially get in the way. Space is vital, so always think about how much clearance is necessary for any exercise you will be doing most frequently. Having too much extra space can be as bad as having too little.
Now, you have some insight into how to set up your home gym. Whether you choose the low-cost option or go all out, it should be functional and conducive to physical activity such as sprints or yoga poses. Indeed, you want your home gym to feel like a positive place where you can work toward your fitness goals with ease.