Family travel trailers have become a growing trend for adventurous vacations, offering unparalleled freedom and flexibility. These versatile homes-on-wheels allow families to explore the open road at their own pace, bringing along all the comforts of home.
Whether it's a trip to a national park, a beach vacation, or a cross-country expedition, the best family travel trailers provide a perfect blend of comfort, convenience, and outdoor adventure. This trend is gaining momentum as families seek unique, safe, affordable ways to satiate their wanderlust.
This article provides a detailed compilation of the 12 best family travel trailers for unforgettable, thrilling getaways.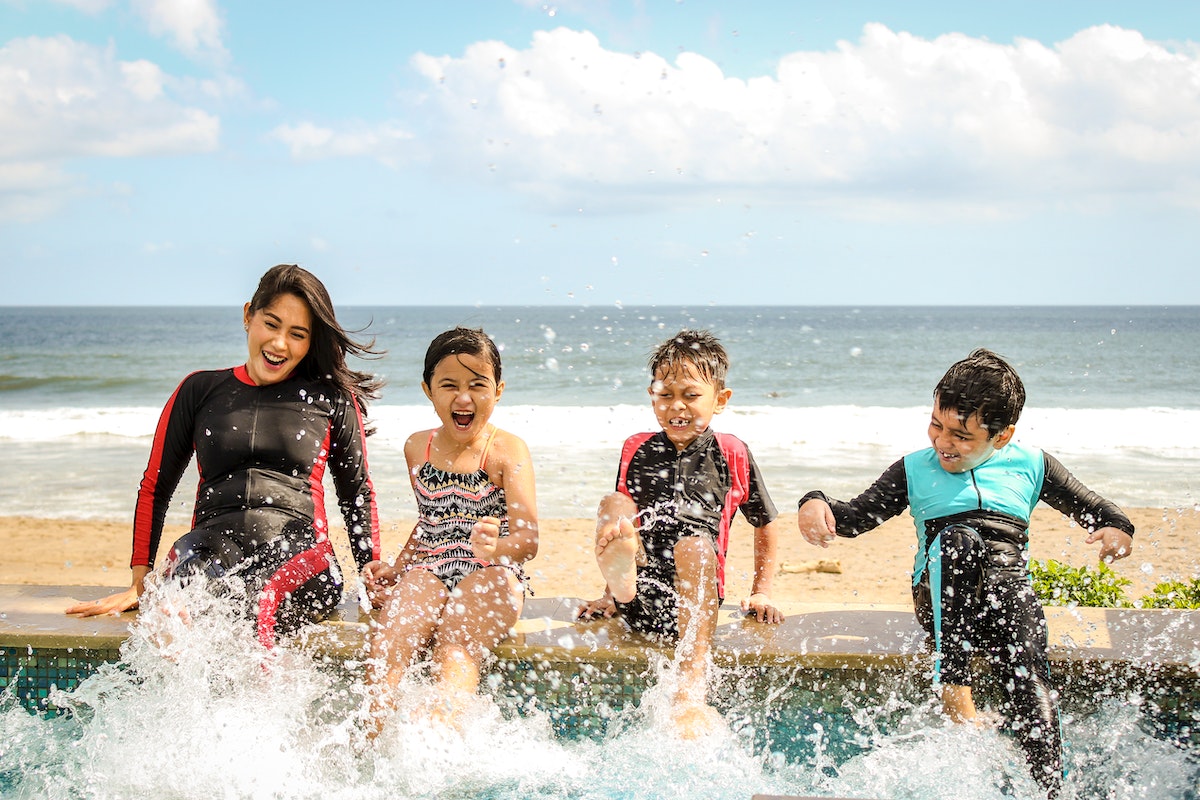 Benefits of Traveling with a Family Travel Trailer.
Traveling in a family travel trailer offers several significant advantages. First and foremost, it provides unmatched convenience. There's no need to worry about hotel bookings or check-in times, as your accommodation travels with you. You can set your schedule, stopping and starting your journey whenever and wherever you choose. This mobility adds a degree of spontaneity to your trips, allowing you to explore off-the-beaten-path locations that you might otherwise miss.
Additionally, travel trailers equip families with home-like comforts, including sleeping quarters, a kitchenette, and in many cases, a restroom. This means that meals can be prepared whenever hunger strikes, and rest breaks can be taken without searching for a suitable location. This convenience and flexibility allow for a stress-free vacation, making the family travel trailer an excellent choice for those wishing to combine adventure with comfort.
Cost-Effectiveness of Owning a Travel Trailer for Frequent Family Trips
The financial aspect is a significant factor when considering family vacations; this is where owning a travel trailer shines. Families can save substantial amounts on accommodation, dining, and even airfare with a travel trailer. The initial investment in a travel trailer is quickly offset by the savings from avoiding expensive hotel stays, particularly for families who travel frequently.
Families can prepare home-cooked meals instead of dining out for every meal in the trailer's kitchenette, leading to considerable savings. Furthermore, there are no airline tickets to purchase or rental cars to book, and families can travel at their leisure without worrying about additional costs for extended stays.
Owning a travel trailer also means that your investment retains value, unlike vacation expenses which offer no return. A well-maintained travel trailer can even be resold, often reasonably priced, further enhancing its cost-effectiveness. In conclusion, a family travel trailer is a gateway to adventurous getaways and a financially savvy choice for frequent travelers.
Factors to Consider When Choosing a Family Travel Trailer
If you plan to buy a family travel trailer, you should consider the following factors:
Size – Trailers come in different sizes and configurations. If you plan long trips, choose one with more space and storage capacity.
Weight – The trailer's weight is crucial, as it affects your vehicle's performance and fuel efficiency while on the road. Choose a trailer with an acceptable weight to ensure your family has an enjoyable trip.
Towing Capacity – You should also consider the towing capacity of your vehicle. Make sure that it can handle the weight of the trailer and payload you'll be carrying.
Features – Consider what qualities are essential for your family's comfort. Do you need a trailer with a separate bedroom, restroom, or kitchenette? Look for one that offers the required amenities without compromising weight or cost.
Price – Consider your budget and shop around for a trailer that fits it. There's a wide variety of trailers in different price ranges, so you should be able to find something within your budget.
Choosing the Right Floor Plan and Features for Your Family
Choosing the right floor plan for your family travel trailer is essential to ensure everyone has space and facilities to enhance their comfort during the journey. A well-designed floor plan can make the trailer feel spacious and homely, even on long trips. Here are a few common options you might consider:
Bunkhouse Floor Plan: This floor plan is ideal for families with children. The design includes bunk beds, providing ample sleeping space without sacrificing living areas. Some bunkhouse floor plans also incorporate a separate master bedroom for parents, offering a touch of privacy in the compact environment of a travel trailer.
Rear Living Floor Plan: Best suited for couples or smaller families, the Rear Living floor plan focuses on providing a spacious and comfortable living area. Most of the space is devoted to the kitchen and living room, with the bedroom typically located towards the front of the trailer.
Front Living Floor Plan: This layout is excellent for larger families or groups traveling together. It offers a separate living area at the front of the trailer, with sleeping quarters towards the back. This design allows for more privacy and separation between the living and sleeping areas.
As for features, there's a wide range of options based on your family's needs. For instance, a family who loves to cook might prefer a trailer with a larger kitchen space, complete with a stove, oven, and ample counter space. Those with young kids might prioritize a trailer with an enclosed bathroom, providing the convenience of at-home amenities on the road.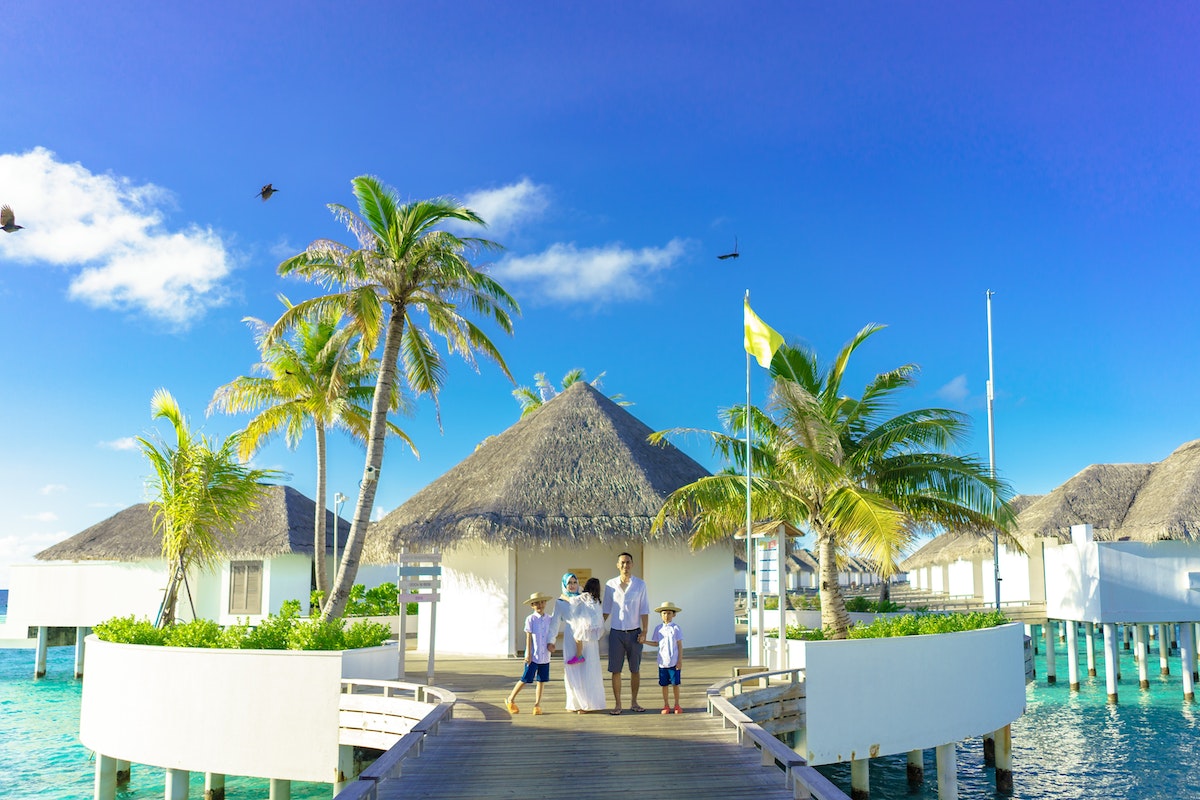 Top 12 Family Travel Trailers: Features, Specs, and Highlights
Below is a compilation of the 12 best family travel trailers for adventurous getaways. This list includes trailers from top manufacturers, offering a range of features, sizes, and price points to suit any budget or lifestyle. Read on to find the perfect trailer for your next adventure!
Grand Design Reflection 312BHTS
The floorplan of the Grand Design Reflection is designed with families in mind. It offers a bunk room for the kids, an island, and ample counter space in the kitchen, providing enough room for a family of four or six to enjoy the interior space comfortably. A spacious 16 cubic-foot refrigerator also ensures ample storage for all your food needs. Moreover, the outdoor kitchen and TV hookup seamlessly blend the outdoor area with the living space, inviting the whole family to make the most of indoor and outdoor living.
Jayco Flight Bunkhouse Trailer
The Jayco Flight is an impressive 36′ 4″ extended travel trailer with a GVWR (gross vehicle weight rating) of 10,250 lbs. What sets it apart as one of the finest family RVs is its thoughtfully designed floor plan, featuring a bunkhouse positioned away from the front master bedroom.2. Family Travel Trailer #2: [Name and Manufacturer]
Inside the bunkhouse, you'll find two single beds and one double bed, providing comfortable sleeping arrangements for the whole family. The Jayco Flight 32BHDS also boasts a spacious kitchen, perfect for preparing delicious meals on the go. The u-shaped dinette and sofa also offer ample seating that conveniently converts into additional sleeping space when needed.
With its well-crafted design and versatile features, the Jayco Flight is a top choice for families seeking comfort and functionality during their RV adventures.
Highland Ridge Silverstar Fifth Wheels
Highland Ridge offers a range of Silverstar Fifth Wheels, spanning from 42′ 3″ to 43′ 7″ in length. With a GVWR ranging from 12,225 to 13,345 lbs, these fifth wheels come in five distinct floor plans, three of which feature bunk rooms.
These exceptional fifth wheels are perfect for families, boasting spacious layouts that provide ample room for everyone. The kitchens are generously sized and feature innovative seating arrangements. For instance, the U-shaped lounge has two tables on either side, facilitating easy access for multiple individuals without needing to navigate around a large table.
Palomino Puma
The Palomino Puma travel trailer offers a wide variety of family options, with over 20 different floor plans. Ranging in length from 29 to 39 feet, it can be towed by most half-ton trucks or vehicles. Check out this versatile RV for the perfect fit for you and your family.
The Puma offers numerous floor plans and features, including spacious living areas, multiple bunkhouse options, and chef kitchens. It can be pre-wired for solar and has options for additional AC units and ducted heating. The Puma is ready to hit the road with all the essentials covered.
The Puma offers a fair price point and a cozy, easy-to-clean interior design. With ample storage and comfortable living spaces, it's perfect for family relaxation and game nights. Although the interior design could be more interesting, the living area and kitchen look great, especially considering the price. Explore Puma's diverse floor plans for a rewarding experience.
Keystone Cougar 30BHS
Unlike the Grand Design models with a separate bunk room, this Keystone family camper trailer offers double over double bunk beds behind the booth dinette. It's an excellent choice for weekenders who prefer to avoid the added length of a bunk room. The L-shaped dinette comfortably accommodates several people, while the tri-fold sleeper sofa provides additional sleeping space and seating for larger families. Additionally, there is pass-thru storage and a cargo door at the rear to store all your camping gear.
Fleetwood Bounder 36H
The Fleetwood Bounder 36H is a spacious 36-foot motorhome with a bunkhouse. Although you may need to search for a pre-owned model, it presents an excellent choice for families.
This meticulously crafted RV boasts luxurious features, including a washer and dryer hookup. Many models have a residential refrigerator, making it perfect for extended family trips. The bunkhouse offers two cozy single beds, while the rear master bedroom features a comfortable queen-sized bed.
Jayco Jay Feather
The Jay Feather by Jayco offers a range of floor plans and a unique interior design, making it an excellent choice for travel trailer enthusiasts. With prices starting at $43k, it provides excellent value for money. Explore the Jayco experience now!
The Jay Feather offers multiple bunkhouse floor plans, including double bunk beds and bunkhouse bedrooms with entertainment systems. It also features spacious interior kitchen areas and the option for an outdoor kitchen. Customizable living spaces allow additional sleeping space with theater seating or convertible couches.
Limited amenities are included at the standard purchase price, but upgrade options include a 50 amp electric panel and additional air conditioning unit prep. Jayco also offers solar panel add-ons for boondocking or renewable energy. Flexibility is key with Jayco, allowing customers to customize their RV experience.
Heartland Sundance Ultra Lite 283RB
The Sundance Ultra Lite 283RB is a remarkably lightweight travel trailer for families. With a bunk house floor plan, it comfortably accommodates up to six people and offers the convenience of a bath and a half, along with two slideouts. One of the slideouts is located in the private rear bunk room, providing ample floor space for kids to indulge in games or enjoy a movie. Despite its impressively light weight of just 6,920 lbs (dry), the Sundance does not compromise on luxury. The kitchen boasts elegant stainless steel accents, concealed hinge cabinets, and a convenient stainless steel sink with a pullout faucet. You'll find LED lighting and USB charging ports throughout the trailer, ensuring modern convenience at every turn. With its spacious living/dining area, the Sundance Ultra Lite 283RB is an exceptional choice for families seeking comfort and style.
Forest River Cherokee 294GEBG
Designed for smaller families who don't require four bunk beds, the Forest River Cherokee offers a queen loft bed over a smaller bunk. With a U-shaped dinette and sofa, there's ample seating, while the outside kitchen and TV hookup encourage outdoor enjoyment and create more space. The rear storage rack is a fantastic addition for carrying extra cargo or a generator.
Northwood Manufacturing Arctic Fox 25W
Northwood's Arctic Fox 25W is a spacious 29′ 6″ travel trailer, perfect for a small family seeking adventure on the road. With a GVWR of 10,700 lbs, this trailer offers ample space and comfort. The front bedroom features a cozy queen bed, while the large dinette easily converts into a 40″ by 76″ mattress. Additionally, a jackknife sofa sleeper provides extra sleeping space. The rear kitchen offers generous room for food preparation, making it a breeze to cook your favorite meals while on the go. With its thoughtful design and comfortable beds, the Arctic Fox 25W stands out as one of the finest family RV options.
Winnebago Minnie Winnie 31H
The Minnie Winnie 31H by Winnebago is a remarkable class C motorhome measuring 32 feet and 9 inches long. With the ability to comfortably accommodate up to eight people, it offers a range of sleeping arrangements. In the rear master bedroom, you'll find a queen bed, while two single bunk beds, a sofa bed, a u-shaped dinette that converts into a bed, and a bunk over the cab provide additional sleeping options.
This RV is considered one of the finest family choices due to its remarkable sleeping and seating capacity. Moreover, including the captain's chairs in the cab adds two more seats when the vehicle is stationary.
Airstream Flying Cloud 25FB
The Airstream Flying Cloud 25FB is a 25-foot-long travel trailer boasting a modern design with sleek lines and luxurious features. With a GVWR of 7,300 lbs, it combines style and functionality seamlessly.
This model accommodates up to six people, featuring a comfortable queen-size bed in the front and a convertible lounge in the rear. However, it is considered ideally suited for a family of four.
Safety Tips and Best Practices for Family Travel Trailer Adventures
Embarking on a journey with a family travel trailer is a thrilling experience, but safety should always be a top priority.
Comprehensive Inspection and Maintenance: Before hitting the road, ensure the travel trailer undergoes a thorough inspection. Check the tire pressure, brake systems, engine oil, and all electrical connections. Regular maintenance is crucial to detect and fix any potential issues that could lead to breakdowns or accidents.
Understand Weight Limits: Every vehicle has a GVWR, which is the maximum weight it can safely carry, including cargo, passengers, and the weight of the trailer itself. Exceeding this limit can lead to unexpected breakdowns or hamper the vehicle's ability to brake effectively.
Secure All Items: While in transit, securing all loose items inside the trailer is crucial. Unsecured items can shift and cause damage or injury during abrupt stops or turns.
Practice Driving: Driving a travel trailer requires different skills than driving a regular vehicle. Practicing maneuvers like parking, turning, and reversing in a safe and controlled environment before embarking on the journey is essential.
Plan Your Route: Plan your route, considering the trailer's size and weight. Some roads or bridges may have restrictions, and certain routes may not be suitable for large vehicles or during certain weather conditions.
Rest and Fatigue Management: Long drives can lead to fatigue, impacting the driver's ability to focus and react quickly. It's crucial to take regular breaks, share driving responsibilities if possible, and ensure a good night's sleep.
Emergency Preparedness: Always carry a first-aid kit and have emergency contact numbers readily available. In case of unforeseen circumstances, it's necessary to access professional medical help quickly.
Remember, a safe journey is a happy journey, and adhering to these safety practices ensures a memorable family travel trailer adventure.
Planning Your Family Adventure: Destination Ideas
Traveling with a family travel trailer allows one to explore the great outdoors and make unforgettable memories. Here are some incredible ideas for planning your next getaway.
Camp on the Beach: Enjoy a stay at one of the many beachside campgrounds offering spectacular ocean views. This type of camping allows families to swim, fish, kayak, play beach games, and just relax in the sunshine.
Visit a National Park: Setting up camp in a national park is an incredible way to experience nature with your family. From Yosemite to Zion, numerous stunning parks are waiting to be explored.
Tour Historic Cities: Many cities provide RV camping options near downtown attractions and museums, perfect for an educational and cultural experience.
Take a Road Trip: Explore the countryside, small towns, unique attractions, and historical sites.
Go Glamping: For a luxurious experience, glamping in one of the many high-end RV parks that offer the opportunity to stay in style without sacrificing any of the amenities.
No matter your destination, an RV provides the perfect opportunity to create lasting memories with your family. So why not hit the road today?
Maintenance and Care Tips for Family Travel Trailers
Buying a travel trailer for your family is just the beginning of your RV journey. Regular maintenance and care ensure many years of trouble-free use of your investment. Here are some tips to get you started:
Clean the Exterior: This should be done at least twice a year or more often if necessary. Use mild detergents if necessary, and wax the trailer to protect it from UV rays and harsh weather.
Inspect Seals and Windows: Look for any cracks or tears in the seals and windows that may lead to water damage or air leaks. Replace them as necessary.
Clean the Awning: Check for any holes, rips, or punctures, and use a mild detergent to clean the fabric and keep it looking like new.
Check Electrical Systems: Ensure all connections are secure and that power is running correctly. If you suspect any problems, contact an RV technician for assistance.
Test Appliances Regularly: To ensure the smooth functioning of all the appliances in your travel trailer, test them regularly for any signs of malfunction.
Grease the Chassis: This should be done annually to ensure adequate lubrication and prevent rusting.
By following these tips, you can rest assured that your family travel trailer will provide a safe and reliable journey for many years.
Budgeting for Family Travel Trailer Adventures
When planning a family RV trip, it's essential to consider the cost of fuel, maintenance, and other expenses. To budget effectively, follow these simple steps:
Estimate Mileage Costs: Calculate the number of miles you will be traveling and multiply it by the price of gas per gallon in your area. This calculation should include any additional mileage for detours and sightseeing.
Research Camping Fees: Different RV parks or campgrounds have different fees, so research ahead of time to find the most cost-effective options.
Consider Maintenance Costs: Spare parts for repairs, oil changes, and other maintenance tasks should also be factored in. It's important to keep up with regular maintenance to prevent any unexpected breakdowns.
Plan for Food: Grocery shopping and meals on the road can add up quickly, so try to make as much of your food ahead of time. Use a cooler or insulated container to store fresh produce and avoid waste.
Set Aside Money for Fun Activities: Try to budget for activities such as swimming, hiking, and sightseeing. Many RV parks offer discounts on these activities, so take advantage of them.
By following these tips, you can make the most of your family travel trailer journey without breaking the bank!
The world of family travel trailers is brimming with various options, each offering unique features and amenities. Whether you're drawn to the customization options of the Jayco Jay Feather, the lightweight convenience of the Heartland Sundance Ultra Lite 283RB, the compact design of the Forest River Cherokee, the spacious interiors of the Northwood Arctic Fox 25W, the remarkable seating capacity of the Winnebago Minnie Winnie 31H, or the stylish and functional design of the Airstream Flying Cloud 25FB, there is a perfect travel trailer to fit your family's needs. Remember the importance of safety, maintenance, and budgeting to ensure your travel trailer journeys are as memorable and enjoyable as possible. Adventure awaits—happy travels!