Becoming a pet owner is a lot of fun. Playing with your pet can help you get exercise, and watching your pet interact with other animals can be entertaining.
Pets also provide companionship and can help reduce stress. Studies have shown that owning a pet can improve your overall health and well-being. So if you're thinking about becoming a pet owner, go ahead – the benefits are many.
But before you bring a furry (or scaly) friend home, there are some things you need to do to make sure you're prepared to take on the responsibility of pet ownership. Fortunately, plenty of people can support you in the quest to become a better pet owner. They will help you take care of your dog until you improve as the parent of a furry child-like creature.
Veterinarian
Having a veterinarian is essential when it comes to taking care of your canine companion. A vet can provide various crucial services to your dog's health and well-being. These services can include:
Regular checkups and vaccinations
Diagnosing and treating illnesses and injuries
Providing nutritional advice
Offering behavioral counseling
Administering spay/neuter surgeries
Having a regular vet can ensure that your dog receives the best possible care. In addition, a vet can be a valuable source of information and support when it comes to caring for your dog.
A veterinarian's expertise will also guide you on how to provide proper nutrition for your dog. You might give meals at the table to your pet, which might not be ideal for their health. The pet-tailored diet they give will ensure that your furry family member stays healthy and active in the short time you spend together.
So if you're new to pet ownership, be sure to find a reputable veterinarian and establish a relationship with them.
Professional Pet Groomer
While you can undoubtedly groom your dog yourself, it's a good idea to regularly visit a professional pet groomer. A professional groomer can provide several benefits, including:
Thorough cleaning and brushing
A haircut or trim, if desired
Nail clipping
Ear cleaning
Anal gland expression
The ability to identify health concerns, such as skin problems or par

asites
In time, you might be able to take a few grooming responsibilities for your dog, eliminating the need for weekly or biweekly visits. You can cut your pet's hair and nails and clean their ears by yourself as long as you watch how a professional groomer does them.
Proper grooming is essential to your dog's health and well-being. In addition, it can be a great way to bond with your dog. By taking them to a professional pet groomer regularly, you can ensure that they always look and feel their best.
Professional Dog Trainer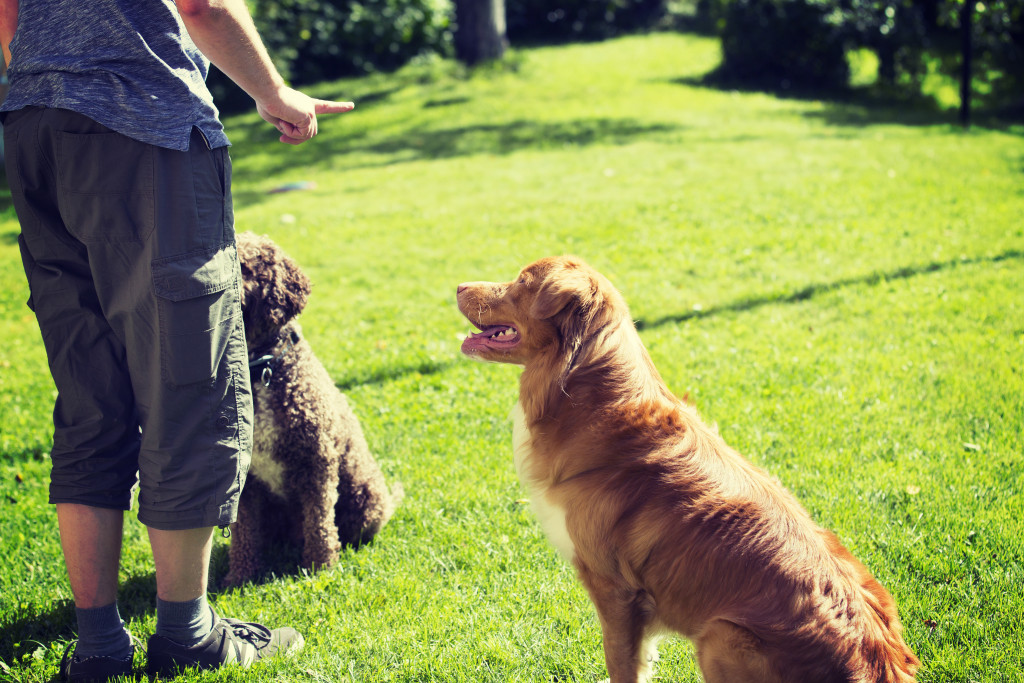 If you're new to pet ownership, you might not be familiar with the ins and outs of dog training. Fortunately, plenty of professional dog trainers is out there who can help you learn the ropes. A professional trainer can teach you how to:
Housetrain your dog
Crate train your dog
Obedience train your dog
Teach your dog how to socialize
With a professional trainer's help, you can learn how to train your dog and instill good behaviors in them effectively. Training is an essential part of responsible pet ownership, so if you're new to dogs, be sure to find a reputable trainer.
More Experienced Pet Owner
In addition to the professionals listed above, another excellent resource for new pet owners is a more experienced pet owner. If you know someone who has owned a dog for years and has plenty of experience with all aspects of pet ownership, don't be afraid to lean on them for advice and support.
An experienced pet owner can offer valuable insights into everything from housetraining to grooming to obedience training. They can also provide emotional support when things get tough – after all, they've been there before!
If you're thinking about becoming a pet owner, reach out to your friends, family, and neighbors who already have pets. They can help you learn what it takes to be a responsible and successful pet owner.
Supervision Partner
As a first-time pet owner, it's essential to be aware of the many responsibilities of owning a dog. These responsibilities can include everything from feeding and watering your dog to housetraining and obedience training.
Many new pet owners find themselves overwhelmed with everything they need to do to take care of their dogs. This situation is where a supervision partner can be invaluable.
A supervision partner is another family member or friend who can help you care for your dog. They can assist you with tasks such as feeding, walking, and bathing your dog, and they can also offer emotional support when things get tough.
Conclusion
There are some people and professionals you can rely on as a new pet owner. Each of these individuals can offer valuable insights and assistance as you take on the challenge of pet ownership. By building a supportive network of people around you, you'll be well on your way to becoming a responsible and successful pet owner.