Are you looking for a way to make your backyard the perfect place to host a party? If so, you're in luck! Here are seven backyard additions that will help you host the best parties ever and make you the envy of your neighborhood:
1. Add outdoor furniture to make the yard more comfortable
If you have yet to make an outdoor dining and lounge area in your backyard, do it before your next party. It will make a world of difference for your guests (and you!) to have comfortable furniture to relax in during the party. But you don't need to go all out and buy new furniture, either.
Check garage sales and thrift stores, or ask friends if they have any outdoor furniture they're willing to lend or sell to you. A bit of furniture can go a long way in making your backyard feel like an inviting oasis, especially when you style it with some fun pillows, throws, and rugs.
2. Get a grill so you can cook outdoors
No party is complete without food, and what better way to cook for a crowd than on a grill? Depending on how many people you'll be cooking for, you can find grills of all sizes. If you don't have a lot of space, consider getting a portable grill that can easily be stored away when you're not using it.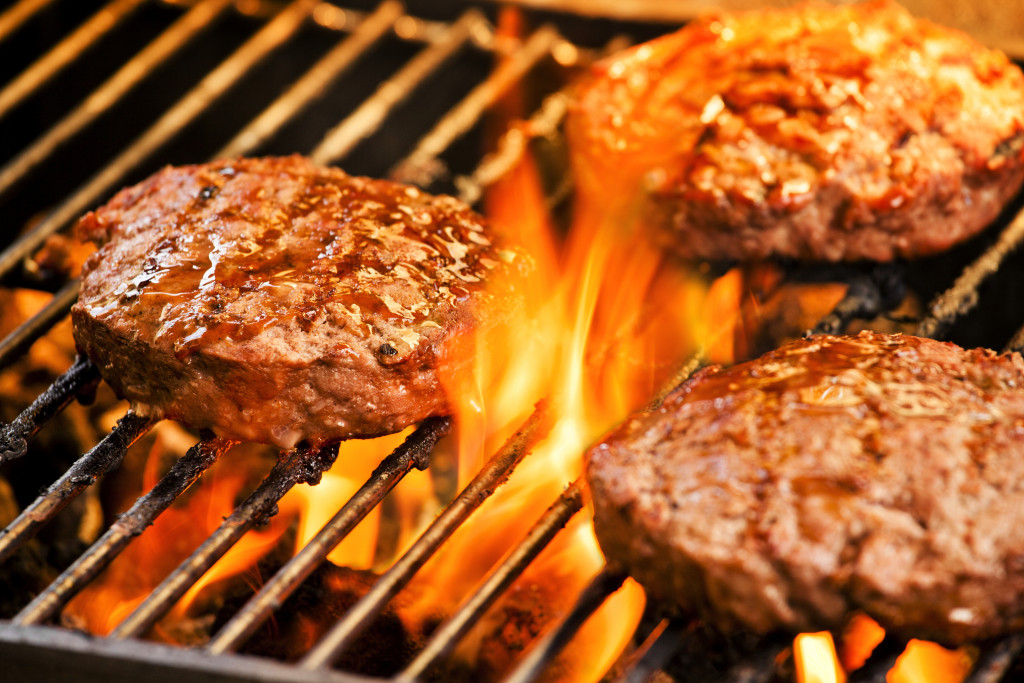 And while you're at it, consider starting that fire pit project you've wanted to do. Having a pit in your backyard will make it feel cozier and more inviting, and it will give you another spot to cook food. Plus, your guests will love gathering around the pit to roast marshmallows or make s'mores.
3. Install some outdoor lighting for nighttime parties
One of the best things about parties is that they often extend into the night. But if your backyard is dark, it can be challenging for your guests to move around and see what they're doing. Add some outdoor lighting to make nighttime parties easier (and more fun).
But since there are so many, make sure to pick the ones that best fit your backyard and your party needs. String lights are always a good option, but you could also get solar-powered lights, lanterns, or tiki torches. Make sure you place the lights in strategic spots, so your backyard is well-lit but not too bright.
4. Consider adding a pool or hot tub to your backyard
If you're looking to take your parties to the next level, consider adding a pool or hot tub to your backyard. Not only will your guests love being able to take a dip, but you'll also have a great spot to cool off when the party gets too heated.

And if you don't want to deal with the hassle (and cost) of a permanent pool or hot tub, you can always get a portable one. Just make sure you have enough space to store it when it's not in use so that it doesn't take over your backyard.
5. Set up some lawn games to keep your guests entertained
Lawn games are a great way to keep your guests engaged, especially if you have a lot of kids at your party. And the best part is that there are so many games to choose from, so you can find the perfect ones for your party.
Some popular lawn games include cornhole, croquet, badminton, and frisbee. But there are tons of other games out there, so do some research to find the best fit for your party. You could even pull out the old Twister mat if you're feeling nostalgic.
6. Make sure you have enough seating for everyone
No matter what kind of party you're throwing, you'll need enough seating for all of your guests. If you don't have enough chairs, people will sit on the ground, which is not very comfortable. And if you have too many guests and not enough chairs, people will end up standing around, which is also not ideal.
The best way to avoid this is to plan and ensure you have enough seating for everyone. If you're not sure how many people will be coming, err on the side of caution and get more chairs than you think you'll need. You can always put them away if you don't end up using them.
7. Provide shade with an awning or umbrellas
If you're throwing a party during the summer, you'll need some shade to keep your guests cool. An awning is an excellent option if you have a patio or deck, and you can even splurge on a retractable one if you have the budget for it.
But large umbrellas can also work well. Just make sure to place them in strategic spots so that everyone has a place to escape the heat. And if you're looking to impress your guests, get some umbrellas with built-in lights. This way, you can keep the party going even after the sun goes down.
These seven backyard additions will help you host the best parties ever! With outdoor furniture, a grill, outdoor lighting, and maybe even a pool or hot tub, your backyard will be the perfect place to entertain your guests. So what are you waiting for? Start planning your next party today!