In light of the recent events, many children were forced to stay indoors. Due to the global pandemic, they need to be cautious about having fun with their friends. And as a parent, you need to ensure that your kids stay productive and creative, even though they stay at home most of the time.
Staying at home for far too long can quickly make them feel bored. Even at a young age, kids need to learn the importance of being productive, and the best way to do that is by doing activities that will hone their skills and talent.
You're probably running out of ideas to keep your kids entertained. But fret not! Here's a list of some enjoyable home projects you can do with your children.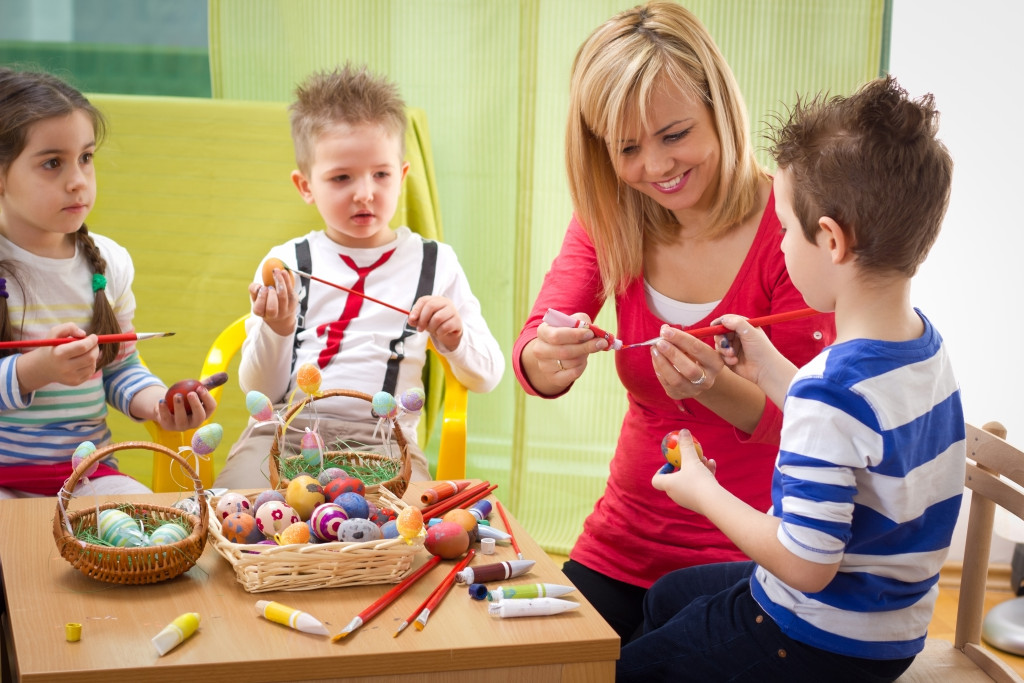 Create a Dollhouse
Help your child create their own dollhouse made of cardboard or wood. Building a dollhouse is a great activity that will allow them to explore their imagination and practice their art skills. They might even surprise you with the designs they have in mind. Make sure to assist them so that they can put their vision into reality.
What's great about creating a dollhouse is that it gives a lot of opportunities for the kids to make something according to their taste. Through this, they can show you how imaginative they could be if they were stimulated by support.
Let Them Help with Gardening
Children appreciate it when adults allow them to help in seemingly essential tasks, such as gardening. If you enjoy plants, let your kids explore your garden with you. Allow them to water the plants, teach them about flowers, and how to make the garden look more beautiful. By doing this, you get to spend quality time with your kids, and at the same time, they learn valuable skills.
Wash the Family Car
Another fun activity with your kids at home is washing the family car together. Don't be afraid of them getting wet or dirty. After all, this activity is supposed to let them be carefree. Assign each child to scrub one side of the car and let them have fun together. If you want them to have more fun, let them rinse the vehicle with a wash hose. Car washing with your children is a fun experience that they will never forget.
Home Renovation
You might think that home renovation tasks are not suitable for kids. But it's an activity that will bring you closer to them. Let them be a part of the activity by asking for their assistance. For instance, ask them to hand over specific tools to you as you fix the kitchen pipe.
It's also a great activity to teach them about the purposes of each tool you use. However, avoid engaging them in dangerous activities, like fixing the roof. If you need help, you may hire people who offer metal cutting and gutter deep cleaning services.
Have a Scavenger Hunt
Hide a few items in your house and surprise your children for a fun-filled day while scavenge hunting. Make the activity more fun by providing prizes for the players who win the game. If you want to make it more enjoyable, give them costumes to wear. It will make them feel like real scavengers.
Bake Together
Baking is another valuable skill to teach your kids. If you have the ingredients, find a recipe that's easy to follow. Make sure to bake something colorful, so they will be more encouraged to participate in the activity. Assist them in mixing the ingredients. You can also take advantage of this activity by teaching your kids how to measure the ingredients.
Play Card Games
Do you want a more laid-back activity? Gather everyone and teach your kids to play classic yet fun card games like Slapjack, Go Fish, Crazy Eights, and many more! Make sure to prepare some snacks like french fries or chips to make the activity more fun!
Finish a Big Puzzle
Puzzle activities are a great way to stimulate a child's cognitive and creative skills. You can buy a massive puzzle over the counter or create one with your kids. Whatever you choose, make sure to use a puzzle that your kids like. Always consider their interests when choosing a puzzle to solve. For instance, if your child likes unicorns, getting a colorful puzzle with a huge unicorn as the main subject would be best.
There are always fun activities to do with your children. It all depends on how willing you are to go the extra mile to make their childhood memorable at home. Make sure to check out these activities the next time you run out of activities to do with your family.